Ski Championships Celebrated by 'Powder To The People'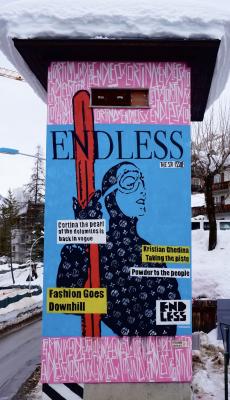 CORTINA D'AMPEZZO – London street artist, Endless, has recently unveiled his mural: 'Powder To The People', promoting 2021 Ski World Championships (Feb. 8 - 21).
  Cortina d'Ampezzo is home to many of the most note-worthy skiers, having hosted the 1956 Olympic Winter Games, as well as appearing in the 2023 Olympics. This event draws in millions of spectators from all over the world.   
  Endless' masterpiece displays a female skier on a magazine cover. His signature print is easily identifiable on her jacket. Numerous skiing puns, taken from newspapers, surround her.
  Despite the current restrictions, Endless hopes that 'residents of the town enjoy the art as much as the event itself'.
av