Film festival returns to Sant'Angelo Le Fratte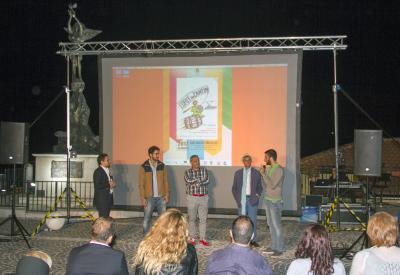 POTENZA- The latest edition of "Corti in Cantina", cinema under the stars, returns once again to the small town of Sant'Angelo Le Fratte in the region of Basilicata.
 The film festival was this year organized by Associazione Basiliciak in collaboration with the town council of Sant'Anfelo Le Fratte and Mediterraneo Cinematografica. It took place on Saturday 26th August with an event hosted by the artistic management of the film director and producer, Giuseppe Marco Albano. Film producers Angelo Troiano and Franceso Lattarulo, members of Mediterraneo Cinematografica, also took part in the evening.
 The line up for 2017 included many award-winning filmmakers, directors and actors from Basilicata. The presence of so many actors and directors from the region made it a particularly notable occasion, as did the originality of the films and high quality of pieces shown.
 The director of the Basilicata Film Commission, Paride Leporace was there to give out prizes, and also thanked the organizers of the festival. Michele Laurino, the mayor of Sant'Angelo Le Fratte, congratulated the organization on the progress it has made over the past six years since the festival started. Leporace also drew attention to the enormous amount of strength and willpower of the Basilicata film foundation for its support of initiatives such as "Corti in Cantina". The mayor praised the way in which it has helped promote audiovisual culture in Basilicata which has taken off over the last few years both amongst those in the industry and with the general public.
 Films shown at the festival this year included L'Appuntamento, directed by Vito Cea, Non Gioco Piu', with Sebastiano Insigna as director, the documentary Basilicata Portrait of a Land with director Silvio Giordano, Le Ali Velate, directed by Nadia Kibout, as well as Urli e Risvegli, directed by Nicola Ragone, L'Ultimo Desiderio, director Geo Coretti and Un Voto all'Italiana and Amore Disperato both directed by Paolo Sassanelli.
ES