Questions persist over U.S. reporter's death in Turkey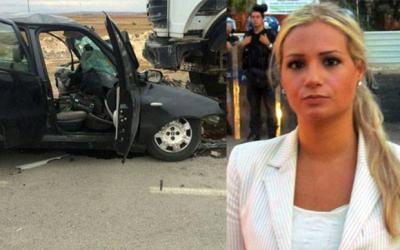 ROME – A year after American journalist Serena Shim died in a car crash after claiming Isis was using World Food Programme vehicles to cross the Turkish border to Syria, her family are still pressing Turkish authorities to disclose the truth about what they see as her suspicious death.
 Ms Shim, 29, made the allegation about WFP trucks in an interview with her employer, Iran's state-run PressTV,  in which she said Turkish MIT intelligence had accused her of spying.
 "I'm very surprised at this accusation – I even thought of approaching Turkish intelligence because I have nothing to hide… I am a bit worried, because…Turkey has been labeled by Reporters Without Borders as the largest prison for journalists…so I am frightened about what they might use against me… "
 "We were some of the first people on the ground –if not the first people – to get that story of … militants going in through the Turkish border … I've got images of them in World Food Organization trucks. It was very apparent that they were militants by their beards, by the clothes they wore, and they were going in there with NGO trucks." 
 A WFP spokesman at the time commented that "WFP has never provided its vehicles or supplies to any militants or military-linked activities. Our food convoys are monitored by international observers, monitors and security personnel." The images Shim mentioned were never released by Turkish authorities after she died when a rental car her cousin was driving collided with a cement lorry.
 Fears of Isis interference with aid distribution re-surfaced in February this year when WFP said it was "extremely concerned about images circulating on social media showing WFP food boxes bearing Islamic State in Syria (ISIS) labels."
 The photographs seem to have been taken in Dayr Hafr, in eastern rural Aleppo governorate about 50 kilometres from Aleppo city, the Rome-based agency said. WFP had last reached Dayr Hafr on 5 August, 2014, through a cross-line convoy that delivered 1,700 food rations, enough to feed 8,500 people for one month.
 WFP learned that in September 2014 ISIS raided Syrian Arab Red Crescent (SARC) warehouses in Dayr Hafr where undistributed food rations may have been stored.  SARC is a partner of WFP.  All areas controlled by ISIS are security hot spots, which severely limits the ability to monitor food distributions.
 "WFP condemns this manipulation of desperately needed food aid inside Syria. We urge all parties to the conflict to respect humanitarian principles and allow humanitarian workers including our partners to deliver food to the most vulnerable and hungry families," said Muhannad Hadi, WFP Emergency Regional Coordinator for the Syria crisis."
 The Daily Beast in October 2014 reported that ISIS leaders force international aid convoys to make hefty payments to gain entry into the eastern Syrian extremist strongholds of Raqqa and Deir ez-Zor, providing yet another income stream for ISIS militants.
 "The convoys have to be approved by ISIS and you have to pay them: The bribes are disguised and itemized as transportation costs," said an aid coordinator who spoke to The Daily Beast on the condition of anonymity.
 "The kickbacks are either paid by foreign or local nongovernmental organizations tasked with distributing the aid, or by the Turkish or Syrian transportation companies contracted to deliver it."
 jp