"Ride On! Dame Sarah Storey's Extraordinary Journey of Triumph" by S.A Sterling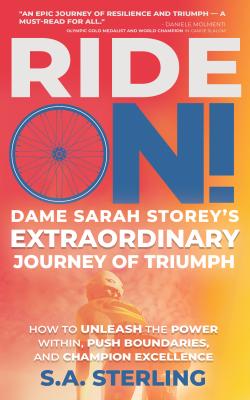 S.A. Sterling's scrupulously researched biography of multiple Paralympics gold medal winner and sports phenomenon Sarah Storey is a fascinating account of perseverance, resilience and determination against odds that would have discouraged a less courageous and motivated person.
  Storey was born without the use of her left arm and had to overcome many obstacles, including bullying at school because she was "different", the skepticism of trainers and the difficulty of finding sponsors when she decided to embark on a career of competitive swimming.
  As S.A Sterling recounts, Sarah wasn't long in proving her critics wrong.
  Sarah's extraordinary courage took her through a major crisis, such as the necessity to give up her promising swimming career due to persistent ear infections and chronic fatigue, and embark on a new venture in competitive cycling, where she proved herself – once more –  a winner.
  In between collecting medals and accolades, Storey has also coped with pregnancy and motherhood, thanks also to the unfailing support of her family and husband Barney.
  The book also emphasizes the human aspects of Storey's life as an athlete, as well as a mother, encouraging women to follow her example and fulfil their full potential. She has campaigned for more opportunities for women in sport and better media coverage for sports events and contests involving athletes with disabilities, as well as road safety for cyclists and schoolchildren.
  S.A. Sterling's book carries a powerful message for all women and for people who suffer from some physical or social disadvantage. Like Dame Storey (title awarded in the British Honours List of 2013), never give up on a dream, work towards your goal and aim, like her, for the Highest!
ms-ab
 © COPYRIGHT ITALIAN INSIDER
UNAUTHORISED REPRODUCTION FORBIDDEN