Driver in tourist death plunge bus 'had healthy heart'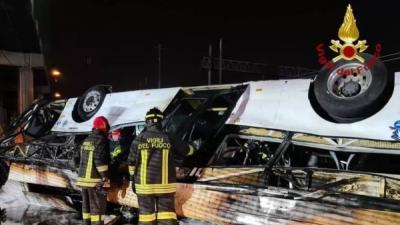 MESTRE  – The driver of a tourist bus that careened off a bridge near Venice last month, in a bizarre accident in which 20 foreign tourists died, had no heart problems that might have caused him to lose control of the vehicle, according to first results of an autopsy carried out at request of investigators.
 The initial report by pathologists on the 40-year-old driver, who was at the wheel when the bus hurtled through a gap in the crash barrier on the bridge, was reported by the Corriere del Veneto newspaper.
 The final stages of the autopsy will be held next week, judicial sources said. Investigating magistrates have placed under investigation the owner of the bus and two officials of the city council of Venice suspected of negligence in not arranging the repair of the crash barrier on the bridge.
 The dead tourists included Ukrainians, Germans, Croatians and the Italian driver.
 © COPYRIGHT ITALIAN INSIDER
UNAUTHORISED REPRODUCTION FORBIDDEN