Pregnant newly-wed, children, among Venice bus crash victims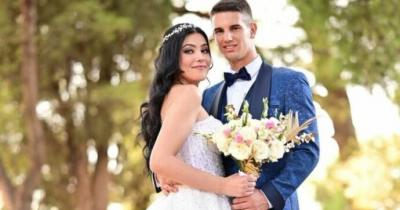 Antonela Bakovic and her husband Marko
  MESTRE -- A pregnant newly-wed Croatian young woman from the Dalmatian coast who was on her honeymoon with her husband fulfilling a dream to visit Venice was named as among the 21 mainly young people and children who died when an Italian bus careened off a bridge onto a railway line and burst into flames Tuesday near the lagoon city, police said. The dead bride was identified as Antonela Bakovic, 26, from Split. Her husband, Marko Bakovic, was being trated at an intensive care unit at a hospital in the northern Italian town of Mirano.
 The children killed in the accident included an infant,  Charlotte, aged 18 months, Daria, aged 10, from Ukraine, and an entire Romanian family, father, mother and their two children.
 Also killed was the German mother of two children who also were on the fated bus but survived, police said. 
 The Italian bus driver Alberto Rizzotto, 40, suspected by investigators of having had a heart attack at the wheel of the vehicle, also perished.
 Rescue workers and hospital staff struggled to put names to the 20 other victims of the disaster where nine were Ukrainian, four Romanian, three German and two Portuguese together with the Croatian pregnant bride and a South African citizen.
 Among the injured there were also two brothers, 13 and 3 years old, from Germany, now being treated at a hospital in Treviso north of Venice after they were saved by the father of the younger boy.
 Their young mother, an Austrian, was also among the dead. Other injured passengers included six Ukrainians, four Germans, two Spanish, a Croatian and another from France.
 The bus tragically crashed and then overturned from an overpass, falling some 10 M. The vehicle was transporting passengers between a campsite in Marghera and Venice.
 Investigators learned that the guardrail on the flyover was not up to legal standards and was due to be replaced, judicial sources said.
 Infrastructure Minister Matteo Salvini has been criticised for cynically muddying the waters and trying to make political capital from the tragedy by asserting that the hybrid electric and methane bus underlined what Salvini claims are the dangers of electric vehicles.
  jp-ab
 © COPYRIGHT ITALIAN INSIDER
UNAUTHORISED REPRODUCTION FORBIDDEN