Two U.S. servicemen vandalise the Basilica Palladiana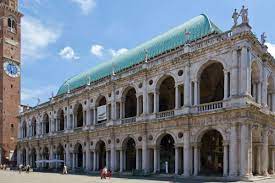 VICENZA - - Two US servicemen vandalised the Basilica Palladiana on July 22, according to Carabinieri police.
 Surveillance camera images made it possible to trace the perpetrators of the vandalism that took place in the night between 22 and 23 July in the Basilica Palladiana in Vicenza.
 They are two American soldiers, 29 and 23 years old, stationed in the American base 'Del Din' in Vicenza. 
 The two soldiers daubed a column of the Basilica with red paint, frescoing it with a clear inscription bearing an initials and a number, the meaning of which has not yet been clarified. 
 A similar drawing was also found on an information sign in the area of the Olympic Theatre.
 The identity of the perpetrators was discovered by the Carabinieri of the Setaf Nucleus of the Ederle Barracks with the cooperation of the U.S. Department of Army Criminal Investigation Division. 
 When he was tracked down, the 29-year-old was still in possession of the red paint used for the defacement, which has now been seized. 
 In addition to the criminal file in the Italian justice system - they were charged with the crime of defacing cultural property - the two now also risk an investigation by the US military authority. 
 The announcement on the identity of the vandals was made on Saturday by the mayor of Vicenza, Giacomo Possamai, together with the deputy commander of the local police, Nives Pillan, during a press meeting held in front of the basilica.
 "In just a few days," remarked the mayor, "we managed to trace the perpetrators, two militiamen from the American Del Din base, who admitted yesterday that they had been present here in the square and that they were the perpetrators of the deplorable gesture, one of them in particular, and therefore guilty of the criminal offence."
 "The two soldiers," the mayor added, "admitted their responsibility, claiming that they had acted under the influence of alcohol."
 es
 © COPYRIGHT ITALIAN INSIDER
UNAUTHORISED REPRODUCTION FORBIDDEN