ENI Sues Greenpeace Italy and ReCommon with SLAPP Lawsuit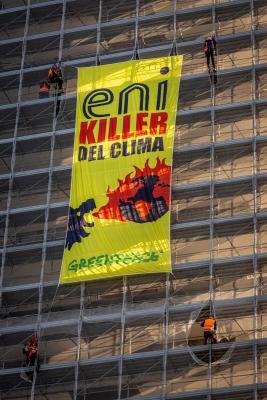 Poster against ENI at the headquarters in Rome.
 ROME – Fossil fuel corporation ENI has taken legal action against Greenpeace Italy and ReCommon, employing a Strategic Lawsuit Against Public Participation (SLAPP).
 The lawsuit was initiated on May 9, when Greenpeace Italy, ReCommon, and twelve Italian citizens impacted by the climate crisis filed a civil lawsuit against ENI, holding them accountable for their contribution to climate damage through continued investment in fossil fuels.
 The legal move marked the first of its kind against a private company in Italy, attracting significant international media attention. In response, ENI appears to have resorted to a SLAPP as an apparent effort to intimidate the claimants into silence.
 Chiara Campione, the head of Greenpeace Italy's Climate Unit, denounced ENI's actions as an attempt at intimidation. Campione said: "This is an attempt to intimidate us, but we will continue to expose ENI's responsibility for their part in the climate crisis. It is paradoxical that, just as Italy is devastated by the impacts of the fossil-fuelled climate crisis, ENI is seeking compensation from people who are advocating for vital changes to energy policy. By continuing to invest in oil and gas, ENI, along with other carbon majors, is threatening people's right to live in a clean, healthy and sustainable environment. ENI's leadership must know that their lawsuit will only motivate us even more in our battle to defend the climate for present and future generations."  
 By choosing to continue in investments in oil and gas, ENI, alongside other major carbon emitters, poses a threat to people's right to live in a clean, healthy, and sustainable environment. Campione reiterated that ENI's lawsuit would only further motivate their resolve to defend the climate for both current and future generations.
 SLAPPs are civil lawsuits employed by powerful entities to hinder public protest and drain economic resources from the defendants. These lawsuits are utilized as corporate tactics to suppress criticism and protests.
 ENI responded with a legal action, seeking compensation from those advocating for critical energy policy changes amid Italy's devastating climate crisis, both Greenpeace Italy and ReCommon asserted that they would not be deterred in their demand for ENI to cease fossil fuel activities, seeking to safeguard life on the planet in all its forms.
 ENI has not specified the exact financial demands against Greenpeace Italy and ReCommon, but their pre-action letter indicated compensation claims exceeding 50,000 euros for each organization, alleging damages for defamation.
 Antonio Tricarico of ReCommon acknowledged the challenges they anticipated when launching The Just Cause campaign but stressed that the risks are imperative to address climate damage. Tricarico said: "We knew that the changes that are needed would not come easily when we launched […] We intend to resist this attempt of intimidation by ENI and ask for the support of all people who care about climate justice."
nk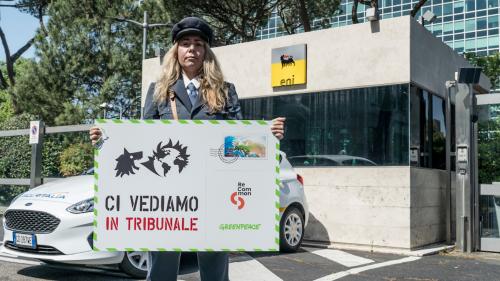 The Just Case banner reading "We will meet in court".
 © COPYRIGHT ITALIAN INSIDER
UNAUTHORISED REPRODUCTION FORBIDDEN