Egyptian President al-Sisi grants Patrick Zaki a pardon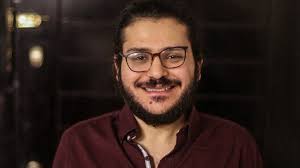 CAIRO - - Patrick Zaki, a student at Bologna University, who was on Tuesday sentenced to three years in prison, has been pardoned by the Egyptian President, according to Italian news agency ANSA.
 The activist, who recently graduated from the University of Bologna, received a presidential pardon from President Abdel Fattah al-Sisi, the Egyptian authorities announced.
 "President Abdel Fattah al-Sisi (...) uses his constitutional powers and issues a presidential decree granting a pardon to a group of people against whom judicial sentences have been passed, including Patrick   Zaki, in response to the appeal of the Council of Secretaries of National Dialogue and political forces," wrote a member of the Egyptian Presidential Pardon Committee, Mohamad Abdelaziz on Facebook.
 The mayor of Bologna, Matteo Lepore announced: "It is a great joy for Bologna, I hope it means embracing him [Zaki] soon and having him back in the city. We must also thank all the activists who have worked for Patrick Zaki, Amnesty, the rector, Professor Rita Monticelli, the successive governments and also the last government, which has been in dialogue with Egypt. We hope that Patrick can leave the country to have him here."
 Riccardo Noury, a spokesperson for Amnesty International Italy, also expressed his happiness: "If yesterday was a catastrophic day, today is a day of happiness. It is important that Patrick is free again. We hope, if this measure does not allow it, that the travel ban will also be lifted."
 Democratic Party Senator Filippo Sensi commented: "I want to express the joy of the entire Senate for this result. I want to thank all those who have worked for this result over the years." 
 Sensi interrupted the work of the Senate Chamber to inform the Assembly of the news that had been awaited since yesterday. A long applause accompanied his words. 
 Senator Giulio Terzi, on behalf of the Fratelli d'Italia Party, joined in the applause, crediting the government with the result: "Great satisfaction," Terzi remarked, "for the importance of such a decisive step."
 Abdelaziz announced that his organisation "had received reassurances about the researcher Patrick George Zaki and others. Since the reactivation of the Presidential Pardon Committee and the start of the national dialogue, we perceive a positive spirit and continue to trust in President Al-Sisi's willingness to use his constitutional powers for the public good and to create a democratic climate."
 This, according to ANSA, represents an intersection of demands and reassurances that seems to justify the "confidence" expressed by Prime Minister Giorgia Meloni after the announcement of the ruling. 
 But the focus now is on Kasr Al Ittihadia, Sisi's presidential palace in Cairo.
 es
 © COPYRIGHT ITALIAN INSIDER
UNAUTHORISED REPRODUCTION FORBIDDEN