Digital nomad visa triggers revolution in the global labour landscape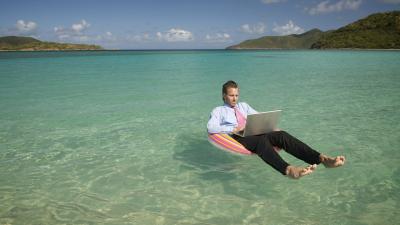 ROME -- In the digital age, advanced technologies have had a significant impact on several aspects of our daily lives, including work. People can finally enjoy new professional horizons, which are increasingly free and flexible, allowing them to work remotely and move freely to different countries without being restricted by geographical ties.
 Within this scenario, a phenomenon that is gaining more and more attention is that of the 'digital nomads', professionals who only need a high-speed Internet connection to be able to communicate with colleagues, participate in virtual meetings, complete projects and much more, without the need to have a traditional workstation in a physical office. Taking advantage of the opportunities offered by the latest technologies, digital nomads can continuously move between different locations, manage their time autonomously and work according to their own needs and preferences. The benefits of being able to work from home, a café, a tropical beach or wherever they prefer are manifold.
 This flexibility gives them the freedom to explore the world by adopting a more adventurous and rewarding lifestyle, to have more hours to devote to the activities and people they love, sports, travel, family, friends, while maintaining a quality of life where the balance between the personal and professional spheres is absolutely preserved.
 Since the COVID-19 pandemic, the relocation sector has been severely impacted, but it has also initiated a process of change and transformation of the professionals involved, which in turn has led to a shift in the relocation trends of company employees and collaborators, with a trend towards shorter assignments and the movement of smaller volumes of furniture and household goods. In the past, international relocations mainly concerned companies based in Europe or the US, which moved employees and collaborators for medium to long periods (2 to 5 years). Subsequently, with the emergence of new markets, there has been a significant growth in demand for global mobility, with the advent of a new generation of mobile workers. This led to shorter postings and increased mobility of personnel from emerging markets. Today, with increasing globalisation, personnel transfers are becoming more fluid. We see the use of more flexible approaches, such as short-term policies, business travel, immersive experiences and commuting patterns.
 Some companies are also outsourcing staff mobility management to specialised companies, called Relocation Management Companies, which offer integrated and streamlined services to ensure a smooth and comfortable transition for expatriates. Moreover, with the advent of digital nomads, professionals who work remotely using technological tools such as laptops, tablets and cloud storage services, the way people do their work is changing even more. These professionals can stay in touch with colleagues and clients through communication tools such as chat, video calls and e-mail, overcoming all time and geographical barriers. The pandemic of COVID-19 has accelerated the process of change in the relocation industry, pushing towards shorter transfers, more flexible approaches and the adoption of technological tools to facilitate remote working. Despite the many advantages highlighted, this new generation of digital nomads also faces some very complex challenges.
 First of all, that of working in environments with little or no structure, which require discipline and careful planning to avoid distractions and ensure a certain level of productivity. In addition, digital nomads must be able to adapt to different time zones and work cultures. Communicating with colleagues or customers in different parts of the world may require good relationship management, a factor not always taken for granted and easily achieved. However, these new trends have triggered a real revolution in the global work landscape and in many sectors. Perhaps this is precisely why many countries have begun to ask questions about how to meet the needs of this growing community of professionals, and governments around the world are beginning to introduce new legal structures to allow the entry and stay of this type of traveller. One of the first achievements aimed at answering some of these questions has been the introduction of the recent concept of the 'digital nomad visa', a regulatory innovation through which these professionals can work and live in the host country while complying with the labour and immigration regulations of the foreign nation.
 What is the digital nomad visa?
The digital nomad visa is a special residence permit offered by some countries to allow digital workers to settle temporarily in their territory. Unlike traditional work visas, which require a job offer from a local employer, the digital nomad visa is based on the flexibility of working remotely. This type of visa is designed for those who work online as freelancers, digital entrepreneurs, digital marketing professionals, software developers and other workers who are not dependent on a physical office.
 Who can get it?
 The specifications for obtaining a digital nomad visa vary from country to country. However, there are some common characteristics that are usually required:
Proof of income: In order to obtain a digital nomad visa, it is necessary to prove a stable and sufficient income to support oneself during one's stay in the host country. This proof of income can be provided through tax declarations, employment contracts, invoices or other financial documents.
Health insurance: Some countries require applicants to have health insurance valid for the duration of their stay. This is to ensure that digital nomads have access to the necessary health care during their stay in the destination country.
Documentation: As with any visa, applicants must submit the required documentation, such as a valid passport, completed application forms and any other information specifically requested by the host country.
Purpose of stay:Digital nomads must prove to enter the host country that their purpose is work.
Period of stay:Most digital nomad visas are granted for a limited period of time, usually three months to one year. However, some countries also offer renewal options to extend the stay.
 How does Italy respond to global labour mobility?
 In Italy, a visa for digital nomads was introduced at the regulatory level in January 2022, which will allow them to work and live in the country while respecting labour and immigration laws. At the moment, however, the implementing decree that will make this type of visa operational has not yet been issued in our country. The government and the relevant ministries have yet to establish how to submit the application, the requirements, the minimum income needed and how work activity will be verified.
 To obtain a visa for digital nomads in Italy, applicants must:
be non-EU citizens,
be highly skilled workers capable of working remotely,
be self-employed or employed by a company based outside Italy.
 This means that not all workers will be eligible for this permit, as some specific requirements will have to be met. The application process for the digital nomad visa in Italy could be simplified, with exemptions from prior authorisation and limitations on the number of applications. In any case, this visa will represent a very interesting opportunity for those who wish to benefit from the favourable tax regimes for foreigners in Italy. On the other hand, as far as the international scenario is concerned, obtaining this permit will translate into greater freedom of movement for digital workers from all over the world, who will finally be able to immerse themselves in new cultural and professional contexts, enriching the many host countries with a highly qualified workforce that will benefit a huge number of sectors.
 Bliss Corporation: the new challenges of international mobility
 Relocation, or the moving of people and families from one location to another, is a complex and stressful process that requires careful planning and highly qualified professional support. What makes Bliss Corporation the best partner in the provision of Global Corporate Relocation services is its ability to offer customised solutions to suit the specific needs of each client. Every relocation is unique, and Bliss understands the importance of creating a tailor-made plan that meets the needs of the individual or family that comes to the company to use its services. From support in finding temporary or permanent accommodation, to managing visas and paperwork, the Group takes care of every detail to ensure a smooth and serene relocation. It should be emphasised that when we talk about International Mobility, we are first and foremost talking about people;
 Therefore, in addition to the technical aspects, it is necessary to approach the concept of movement in a human and empathetic manner. People who move around the world for professional reasons represent a source of wealth, growth and development. It is on the strength of this awareness that the company aims to involve all stakeholders in the emotional depth involved in moving people around the world. Today, modernity requires us to reflect on changes that embrace every sphere of daily life, including the workplace. Bliss Corporation cannot therefore disregard the need and desire to address as soon as possible the practical and bureaucratic management of new professional figures, such as those represented by digital nomads.
 The Group's experience in the field of Relocation and Immigration, its partnerships with governmental and consular bodies, and its knowledge of the laws and regulations of the various countries will allow it, as soon as the decree is officially issued, to simplify the process of obtaining a visa for this type of worker, guaranteeing them a positive experience that will allow them to make the most of new professional opportunities and new life balances on a global scale.
 jp-ct
 © COPYRIGHT ITALIAN INSIDER
UNAUTHORISED REPRODUCTION FORBIDDEN