Emmanuel Carrère wins European Strega Prize 2023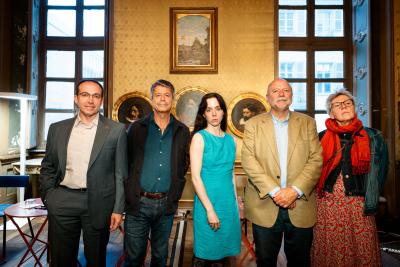 The five finalists of the Premio Strega 2023
TURIN – Emmanuel Carrère, with his novel V13 (Adelphi), has won the tenth edition of the Premio Strega Europeo. The prize was also awarded to Francesco Bergamasco, the translator of the winning book, as a tangible sign of the importance of translations as a tool for dialogue and knowledge.
The European Strega Prize turns 10 this year and has renewed its collaboration with the Turin International Book Fair. The selected authors presented their respective books in the competition at the Salone again this year, each in a one-to-one meeting between Friday 19 and Sunday 21 May. The prize is awarded each year by a jury of 24 Italian authors, winners and finalists of the Premio Strega.
The European Strega Prize, created in 2014 on the occasion of Italy's six-month presidency of the Council of the European Union to spread awareness of the most original and profound voices in contemporary fiction, is promoted by the Maria and Goffredo Bellonci Foundation, the Strega Alberti Benevento company, in collaboration with BPER Banca, Salone Internazionale del Libro and the Circolo dei Lettori Foundation of Turin.
During the prize-giving ceremony at the Circolo dei lettori, hosted by journalist Eva Giovannini, Giovanni Solimine and Stefano Petrocchi, respectively president and director of the Bellonci Foundation, Gilberto Borghi, external relations manager of BPER Banca, which offers the translation prize, and Giulio Biino and Elena Lowenthal, respectively president and director of the Circolo dei Lettori in Turin, spoke:
"I have always believed that we are the books we read. And that our Europe, which every day we try to make stronger and freer," said Pina Picierno, Vice-President of the European Parliament, "is born from the roots of a long thought that was formed after the Second World War and that would not have been possible without intellectuals, writers and poets fertilising in the European consciousness the idea of a continent that becomes a country, of a dream that becomes the living matter of history."
Emmanuel Carrère received 11 votes out of a total of 24 cast by the jury composed as usual of winning writers and finalists of the Premio Strega: Silvia Avallone, Andrea Bajani, Marco Balzano, Giuseppe Catozzella, Benedetta Cibrario, Antonella Cilento, Mario Desiati, Paolo Di Paolo, Claudia Durastanti, Fabio Genovesi, Helena Janeczek, Nicola Lagioia, Lia Levi, Melania G. Mazzucco, Daniele Mencarelli, Marco Missiroli, Matteo Nucci, Valeria Parrella, Sandra Petrignani, Antonio Scurati, Elena Stancanelli, Domenico Starnone, Nadia Terranova and Sandro Veronesi.
Five novels recently translated in Italy, from different linguistic and cultural areas, which have won a major national prize in the countries in which they were published, competed for the award.
The five books nominated for the European Strega Prize 2023:
- Emmanuel Carrère, V13 (Adelphi), translated by Francesco Bergamasco, Prix Ajourd'hui.
- Esther Kinsky, Rombo (Iperborea), translated by Silvia Albesano, Kleist-Preis
- Andrei Kurkov, L'orecchio di Kiev (Marsilio), translated by Claudia Zonghetti, Geschwister-Scholl Preis
- Johanne Lykke Holm, Strega (NN Editore), translated by Andrea Stringhetti, English PEN Award
- Burhan Sönmez, Pietra e ombra (nottetempo), translated by Nicola Verderame, EBRD Award
 eb
 © COPYRIGHT ITALIAN INSIDER
UNAUTHORISED REPRODUCTION FORBIDDEN