Formula 1 driver Yuki Tsunoda shovels mud from the streets of Faenza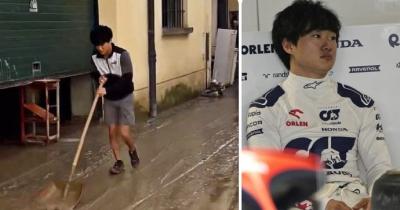 Yuki Tsunoda shoveling mud off the streets of Ravenna
 FAENZA – From some of the fastest paved tracks in the world to streets covered with mud and debris, Formula 1 driver Yuki Tsunoda was spotted helping clean the streets of the disaster-struck city of Ravenna. 
 The driver had been preparing for the umpteenth race which was planned to take place on the Imola track when the flood struck causing the region around the circuit to transform into a river of dirt and debris. 
 He and other members of his AlphaTauri team are currently aiding by shoveling and cleaning up the streets of Ravenna, near Faenza. 
 He commented on the situation on social media writing that: "After a horrible night the city is badly hit: dust, mud, and the smell of petrol everywhere. Currently, people are struggling to find food and especially places where to stay, after many have been evacuated from their homes. Please, anything you can do to help is appreciated, no matter how big or small the donation is", along with the caption he posted photos, of the disaster and of him in his cleaning gear in the streets of Ravenna. 
 After the Imola Grand Prix was canceled, Tsunoda decided not to return to Japan and stayed in Faenza which has been his home for two years, to help the city, in the aftermath of the flood along with some staff members.  
 Together they rolled up the sleeves of their overalls with the team's logos on them and started helping locals remove the mud and debris. The Imola race has been definitively canceled, after several postponements following the disaster. 
 sz
 © COPYRIGHT ITALIAN INSIDER
UNAUTHORISED REPRODUCTION FORBIDDEN