Polish mayor dead after falling from hotel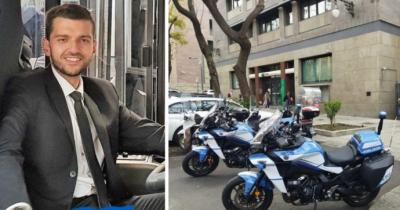 Radosław Grzegorz Ostałkiewicz, Polish mayor of Jaworze. Photo: Il Fatto Quotidiano
 CAGLIARI, Sardinia -- A 44-year-old Polish mayor, Radosław Grzegorz Ostałkiewicz, died after falling from the fourth floor of a Sardinian hotel on Monday night, investigators announced. 
 The mayor of Jaworze was on a trip with colleagues for various institutional visits. The group was staying at the Due Colonne hotel, where the tragedy occurred around two in the morning.
 One of Ostałkiewicz's colleagues claims that the two were sitting on the window sill of the hotel room when he lost his balance, falling meters down and landing on asphalt. A passerby called authorities and medical assistance immediately, but the mayor had died instantly. 
 Fabrizio Mustardo, the manager of the mobile team investigating the fall, are continuing investigations with scientific specialists to reconstruct the story. They have confirmed that the fall was accidental, and an autopsy is in the works. 
 Ostałkiewicz, also an economist, is well-known in Poland and has been Jaworze's mayor since 2014. 
 jd
 © COPYRIGHT ITALIAN INSIDER
UNAUTHORISED REPRODUCTION FORBIDDEN