Italy warns of further Russian naval threat in Mediterranean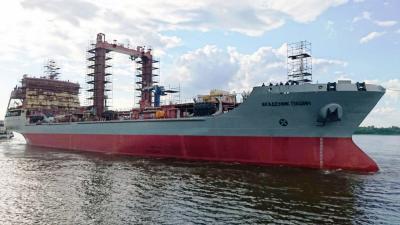 The Russian tanker Akademik Pashin
ROME –  Admiral Enrico Credendino, Chief of the Italian Navy, warned Tuesday of a 'dramatic increase' in military manoeuvres carried out in waters close to Italy by the Kremlin's warships. The admiral's remarks in a speech to Italy's parliament were echoed by the Itamilradar website.
 According to the Italian Armed Forces, who continue to monitor the movements of this Russian fleet composed of a dozen units, these actions are not particularly worrying for the moment. Admiral Enrico Credendino spoke of the "aggressive attitude" of the Russian vessels, which could become an issue in the future.
 Italmilradar indicates the presence of the tanker Akademik Pashin and the frigate Admiral Kasatonov, which are currently sailing in the Sicilian Channel after having left from the Syrian port of Taurus. The most likely hypothesis is that the two ships are sailing towards the Strait of Gibraltar and then back to Russia. The Pashin and Kasatonov may soon be replaced by the tanker Kama and the frigate Admiral Gorshkov, which will shortly enter the Mediterranean through the Suez Canal. In this way, the Russian presence in the basin will not decrease.
 A few days ago another tanker, the Kola, entered the Mediterranean via Gibraltar. The ship is currently in the Ionian sea south of Corfu and is heading north. It may enter the Adriatic Sea, where the group 'Combat strike' on the U.S. aircraft carrier 'George Bush' is located. These movements lead on from the Sep. 2022 incident when the Russian oceanographic research ship, Akademik Ioffe, arrived in the Strait of Gibraltar, directly in the crosshairs of the Atlantic Alliance, presumably, as reported by Italian newspaper Repubblica, 'not for research purposes, but rather aimed at studying submarine cables and conduits.' This presence led to NATO affirming that increased maritime surveillance would continue.
 As of today, the movements of the Russian fleet fall within the realm of possible provocation between the powers – and must be carefully monitored to avoid incidents which would increase the risk of a clash in the Mediterranean.
eb
 © COPYRIGHT ITALIAN INSIDER
UNAUTHORISED REPRODUCTION FORBIDDEN