Italian-Palestinian stylist Taslaq dazzles Eternal City
  ROME – The Italian-Palestinian stylist, Jamal Taslaq presented his glittering new fashion collection "Eternal" at a catwalk at the Galleria del Cardinale in the swanky Palazzo Colonna. The collection, which was primarily inspired by the Eternal City, boasted shapes and colours that create harmony between the Roman Empire and Middle East.
 "Precious fabrics, embroideries with geometric lines, silk thread, mirrors and crystals," were just some details among the designs presented on Sunday, according to Il Messaggero newspaper. Mr Taslaq, 53, a native of Nablus in the Israeli-occupied West Bank, has previously presented his work at the United Nations headquarters in New York but dazzled Rome again this past weekend, bringing style and sumptuousness to Italy's capital city. He opened his studio in the chic Via Ludovisi in 1999. 
 The fashion show venue, which was built in 1730 by late-Baroque architect Paolo Posi and commissioned by Cardinal Girolamo II, was a thoughtful choice by Taslaq. Originally intended for a library and the family's pictorial collection, the gallery holds columns that are said to have come from the Pantheon. 
 Its stuccos and ancient marble helped to further Taslaq's inspiration from the Roman Empire as he combined style with history. One of his dresses, "black and white with shades of red and green" paid homage to the city, boasting the words "Eternal Rome."
 Among the celebrity attendees at the show were actress Nancy Brilli, who wore a "dark sheath dress with transparent sides and edged with pearls," the Neapolitan thespian Linda Sastri, Jacqueline De Laurentiis, wife of the movie producer Aurelio De Laurentiis, the Roman actress Maria Rosario Omaggio, Grazia Sciavo, Leopoldo Mastelloni, Alessia Fabiani, Raffaella Paleari, and Nicoló Mariani.
 Fun-loving members of the Roman aristocracy flocked to the show, including Prince Guglielmo Giovanelli Marconi with his mother Elettra and his wife Vittoria, who wore "electric blue trouser suits." Princess Maria Pia Ruspoli and Princess Maria Grazia Borghese with her son Prince Tara.
 The thring included the painters Amedeo Brogli and Ilian Rachov, the stylist-astrologer Massimo Bomba, and the television producer Pascal Vicedomini. Elena Parmegiani, the events director of the Galleria, presented the défilé, while the Italian Consul General in San Francisco, Sergio Strozzi, connected live for greetings.
 jp-jd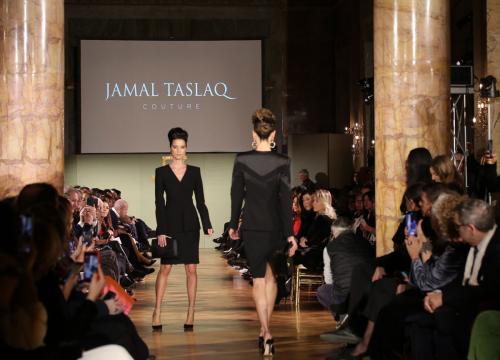 © COPYRIGHT ITALIAN INSIDER
UNAUTHORISED REPRODUCTION FORBIDDEN