Italian army nurse killed in latest Rome street violence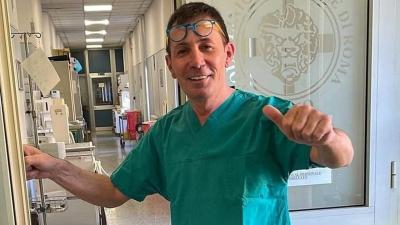 Danilo Peptone at work in Del Celio Hospital
 ROME – A corporal major of the Italian army, Danilo Salvatore Lucente Pipitone, has been kicked to death in the latest incident in a rash of violence hitting the Eternal City in recent weeks, police said. 
 The attack happened in Centocelle, in the southern part of Rome, on Saturday. Pipitone was assaulted but the motive is yet not clear, witnesses said they saw a man flee the scene in a car – the police are currently investigating and have reportedly interrogated two people. A man of Turkish origin is now wanted by the police.
 There is a hypothesis of a failed robbery. Pipitone still had his wallet on by the time he arrived at the Vannini hospital where he was first taken to by ambulance. However, due to his critical condition, he was immediately transferred to Umberto I Hospital, where he died after a day spent in a coma. 
The man worked as a Nurse at the military hospital Del Celio.
 In the past week there have been multiple reports of violent events. On the same day, a couple of friends aged 21 and 27 were shot and wounded in Morena, the eastern part of Rome – they are now both in stable condition.
 On Friday, a young married couple and their new-born child were fired at from the back by two gunmen on a scooter in the Infernetto area – there is a hypothesis that an organized criminal group is behind this as the area is known for the 'Spada Clan'.
  On the night between Tuesday and Wednesday, a 36-year-old woman has been punched repetitively in the face, her screams were heard by some neighbors who notified the police.
 On Sunday, a 46-year-old man originally from Milan was approached by three men robbed and stabbed in Termini.   
  jp-nk
 © COPYRIGHT ITALIAN INSIDER
UNAUTHORISED REPRODUCTION FORBIDDEN