Lazio overcome impotent Roma to win Rome derby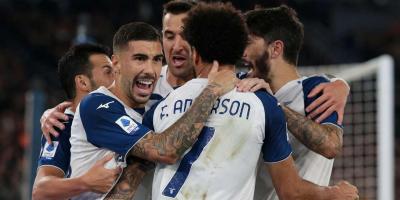 Felipe Anderson celebrates with teammates
 ROME – Lazio beat Roma 1 – 0 at the Stadio Olimpico on Sunday to overtake their rivals in the Serie A standings. 
 It almost seems unfair to say that Lazio won the game, as it is certainly truer that Roma lost it. The Giallorossi dominated possession of the ball and created more chances, but their finishing was unconvincing and Lazio goalkeeper Ivan Provedel was never challenged. Likewise, the Biancocelesti's only goal came from a Roma error when Brazilian centre-back Roger Ibañez lost possession in his own box after half an hour. The ball fell conveniently in front of Brazilian Lazio midfielder Felipe Anderson who passed it into the net without difficulty. After this the Giallorossi had plenty of opportunities to level the score but they never managed to convert. The win for Lazio saw them rise to third place in the league, overtaking Roma and Atalanta.
 In another crucial game played over the weekend, league leaders Napoli came back against Atalanta after conceding to win 2 – 1 away in Bergamo on Saturday. To beat Atalanta was particularly important for the Azzurri as the Lombard team were second in the league. This latest victory means the team from Naples have won their last nine consecutive Serie A matches, and a goal from Victor Osimhen made him the current top scorer in the competition. 
 On Sunday, Juventus secured a much-needed victory against Inter Milan after a run of poor form in the Champions League.  The Bianconeri won two goals to nil at home in the Derby d'Italia. While the Nerazzurri dictated the first half of the game, they squandered several chances, and in the second half Juventus scored two quick goals from which the visitors never recovered. The win meant the team from Turin rose to fifth in the league and Inter fell to seventh place.
 es
 © COPYRIGHT ITALIAN INSIDER
UNAUTHORISED REPRODUCTION FORBIDDEN