Former leader of Inter ultras shot and killed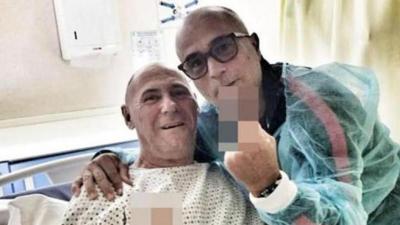 Vittorio Boiocchi, left, with a friend
 MILAN – A former leader of the Inter Milan ultra-fans, Vittorio Boiocchi, was shot and killed by a pair of armed assailants on a motorbike, police said.
 The 69 year-old victim was killed on Saturday evening on a street in the outskirts of Milan. Boiocchi suffered numerous gunshot wounds, with the majority grouped around his neck and chest. According to witnesses, the two suspects were riding a maxi scooter when they opened fire on the famous ultras head. 
 The attack took place shortly before Inter Milan played Sampdoria at the San Siro. When the ultras heard the news of Boiocchi's death during the first half of the game they did not display banners or chant, and at the interval staged a mass walkout in homage to their former leader. 
 Investigators believe the incident may have been a case of settling debts, as Boiocchi himself had criminal affiliations and a long list of past convictions, including drug trafficking and kidnapping. Banned from attending matches in 2018 after an Inter ultra was killed, he also spent 26 years in prison between 1992 and 2018 and was arrested as recently as 2021.
 He is survived by his wife and three children.
 es
Investigators at the scene of the attack
 © COPYRIGHT ITALIAN INSIDER
UNAUTHORISED REPRODUCTION FORBIDDEN