Eight days waiting onboard Ocean Viking amid overwhelming medical needs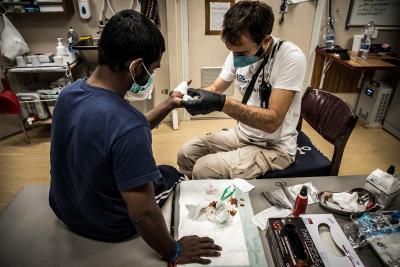 picture credit: Tara Lambourne / SOS MEDITERRANEE
 MARSEILLE – 460 women, children, babies and men are stuck in limbo waiting to disembark. Some with overwhelming medical needs have been stuck onboard eight days after being rescued on the deadly Central Mediterranean. SOS MEDITERRANEE and the International Federation of Red Cross and Red Crescent Societies (IFRC) are calling for these survivor's right to disembark in a Place of Safety without further delay.
 Within just 60 hours, the Ocean Viking—a search and rescue ship chartered by SOS MEDITERRANEE in partnership with the IFRC — faced more distress cases than ever before. The crew found and rescued people from ten unseaworthy, overcrowded boats on the world's deadliest sea migratory route since 2014, the Central Mediterranean. The search and rescue ship remains stranded at sea waiting for the survivors' disembarkation. 
 The team is facing an overwhelming number of medical cases, including exhaustion, dehydration, and untreated skin infections and wounds. Other survivors are facing chronic medical conditions and two 9-month-pregnant women were evacuated.
 "We have never experienced such level of severe medical cases on board Ocean Viking. The survivors were found in the middle of high seas in unimaginable situations. In a desperate attempt to find safety, they were near to die at sea, either by drowning, or by dehydration. Per maritime law, their rescues will only be completed when they will have reached a Place of Safety. The current blockade for their disembarkation must find an end without further delay. " says Xavier Lauth, SOS MEDITERRANEE Director of Operations. 
 Every day that passes, the needs of those on board grow. 
 Francesco Rocca, President of IFRC said:
 "The sheer number of people rescued in such a short time with such severity of people's conditions onboard only shows us that the situation is getting so much more desperate for those seeking safety and protection. We cannot continue to face this same challenge over and over again. We need longer term solutions – including a commitment for safe and regular pathways to protection and safety while also ensuring access to protection for those arriving spontaneously."
 SOS MEDITERRANEE and IFRC call on European members and associated States to show solidarity, observe maritime law and guarantee fundamental human rights. The wait and suffering of the 460 survivors onboard Ocean Viking must end immediately.
 About SOS MEDITERRANEE
 SOS MEDITERRANEE is a maritime and humanitarian organization for the rescue of people in distress at sea. It was founded by European citizens in 2015 and launched rescue operations in the Central Mediterranean in February 2016. The non-profit organization based in France, Germany, Italy and Switzerland, is mainly funded through donations.
 About IFRC
 IFRC is the world's largest humanitarian network, comprising 192 National Red Cross and Red Crescent Societies working to save lives and promote dignity around the world. 
 © COPYRIGHT ITALIAN INSIDER
UNAUTHORISED REPRODUCTION FORBIDDEN