Jack Laugher wins gold in the 1m springboard diving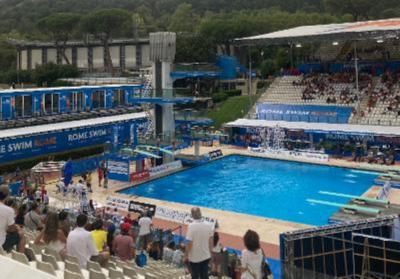 Jack Laugher won gold at the Foro Italico on a day on changing weather conditions
 ROME – Great Britain's Jack Laugher claimed gold in the 1m springboard diving at the 2022 European Aquatics Championships in Rome with an excellent set of six dives to take the crown.
 He finished with a total score of 413.40, comfortably beating the Italian duo of Lorenzo Marsaglia and Giovanni Tocci into second and third with scores of 396.25 and 386.20 respectively.
 Laugher was in strong form throughout the competition and was in a medal position right from his very first dive. After round 2 he moved into first place and he never looked back to take home the gold medal.
 Following a silver medal at the last European Championships in 2020 in Budapest Laugher was delighted to reclaim his title in Rome.
 "I am feeling really happy. Last Europeans it was a silver on the 1m and the previous one before that was gold so I'm really happy to get my title back again. It was very consistent diving with nothing majorly wrong. There were no major hits either but I think today's been really difficult with the changing conditions throughout the day. We had sun in the morning and then cloud and rain. So, I'm really happy with how I've done and how I've handled the entire day.
 In the changing conditions at the outdoor stadium at the Foro Italico, Laugher followed up his silver medal at the World Championships and gold medal at the Commonwealth Games in what has been a busy summer of competition.
 "It's very difficult. I think that when the wind is blowing or we've been used to training with the sun. We've had blue skies and gotten used to that. Today's been the first day when we've had cloud cover and when you're spinning around and you're seeing different things and you've potentially got the wind blowing when you're doing your hurdle steps. It's difficult. As I've said, I had a consistent day with very few drops and I'm really happy to be standing on top of that podium
 "I definitely have got tired. It's been a long summer. The three major championships of the Worlds, Commonwealth and Europeans have all been in the space of about eight weeks and it is a tough schedule for the three majors you're meant to peak at. I'm really happy with how the seasons gone. It's been hard but I've constantly been thinking about having a good event and then moving on. I did the World Championships and then I had the Commonwealth Games next and I've never taken my foot of the gas. I've got a great team around me. The physios have kept me in one piece and the coaches have been really understanding of the struggles of the season. I've gotten to a really good place and I'm happy with how today has gone."
 His teammate Jordan Holden finished in fifth place in the final.
 Elsewhere on day 2 of the diving competition it was an agonising fourth place for Desharne Bent-Ashmeil and Amy Rollinson in the 3m synchronised springboard event. The pair finished with 257.40 points – just 0.3 points off a bronze medal position in what was their first senior appearance at a European Championships.
 In the final event of the day in the men's 27m high diving Aidan Heslop is in sixth and Owen Weymouth in 10th after the opening round.
 Overall, Team GB remain third in the medal table with six golds, six silvers and seven bronzes.
 © COPYRIGHT ITALIAN INSIDER
UNAUTHORISED REPRODUCTION FORBIDDEN