Inflation on household spending rockets by 9.1 percent in biggest hike since '84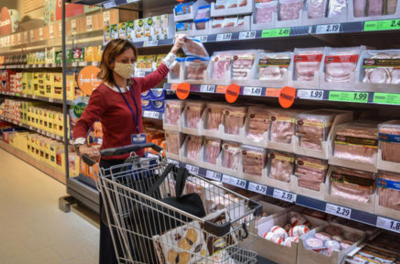 Record inflation on household prices
 ROME – ISTAT have reported that the average supermarket prices reached +9.1 percent, an increase that has not been recorded since September 1984. Both the prices of food, household and personal care goods went from +8.2 percent to +9.1 percent, and products with a high purchasing frequency (from +8.4 percent to +8.7 percent) accelerated. 
 Trend inflation fell by 0.1 percent from June's eight percent, while the consumer price index rose by 0.4 percent month-on-month, reported ISTAT estimates for July. 
 This decline was driven in part by the drop in energy prices which went from +48.7 percent in June to +42.9 percent, mostly thanks to regulation (+64.3 percent to +47.8 percent), and in small part to non-regulated energy sources (from +39.9 percent to +39.8 percent). 
 Assuming a trajectory that mirrors the current one for the remaining part of the year, acquired inflation for 2022 is +6.7 percent for the general price index, and +3.3 percent for the core component (net of energy and fresh food). 
 Inflation in the eurozone has hit a new record, as in July it rose to 8.9 percent from 8.6 percent in June. The main cause to drive this record are energy prices which were up 39.7 percent on the year. 
 Concerns are rising concerning the cost of living, after the Five Star Movement boycotted a crucial confidence vote on the cost-of-living package that was not deemed sufficient. Marina Lalli, president of Italy's National federation of Travel and Tourism Industries expressed the boost tourism has had on the country after the pandemic, and on the cost of living said, "Italians are afraid to spend money."
 A surge in tourism after a relaxing of Covid restrictions has led to growth in the eurozone, meaning that the impact of record-high inflation in the second quarter does not take such a huge blow to the countries. 
 The GDP growth of one percent was better than expected, according to ISTAT'S preliminary estimates.
 al
 © COPYRIGHT ITALIAN INSIDER
UNAUTHORISED REPRODUCTION FORBIDDEN