IFAD supremo Houngbo 'favourite' to win ILO contest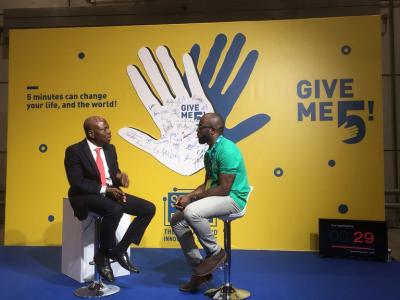 IFAD President Gilbert Houngbo (left) PHOTO CREDIT: IFAD
 ROME -- As French media speculated IFAD President Gilbert Houngbo is emerging as the favourite to become head of the International Labour Organization, diplomatic sources disclosed the Togolese politician also threw his hat in the ring to be head of the International Finance Corporation.
 French business newspaper Les Echos reported that former French labour minister Muriel Penicaud, also a candidate to become ILO director general, faces an uphill struggle in the contest since "there is strong pressure for an African to take over the leadership of the ILO, which always has been occupied by the French and the Anglo Saxons."
 Mme Penicaud also was the subject of a complaint to the ILO by the French trade union confederations over what they charge was her supposed failure, as minister of labour at the start of the Covid crisis to respect the independence of workplace inspectors in France.
 Houngbo was lambasted by ambassadors from OECD countries for pursuing the ILO post within just six months of being elected to a second term as IFAD president. The disclosure that he also had been a candidate for the IFC, a sister body to the World Bank, may fuel further displeasure among IFAD donors that he is using the poverty-busting agency as a springboard for his career rather than addressing IFAD's future.
 With pressure growing for an African ILO head, Houngbo could be considered the favourite for the post given that a South African candidate lost the support of his government recently.
 Also in the running for the ILO are SOuth Korean and Australian candidates against the background of a low ebb in relations between France and Australia over the massive submarine deal that Paris lost at last minute due to Australia opting for British and American nuclear subs.
  jf
 © COPYRIGHT ITALIAN INSIDER
UNAUTHORISED REPRODUCTION FORBIDDEN