NATO trounce Pakistan in Commonwealth Club cricket tournament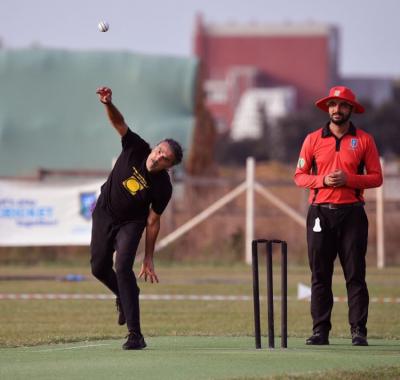 CWCR Chair Ed Mura bowls a spinner
  ROME – A team from the NATO Defence College easily defeated the Pakistan Embassy squad in the annual Commonwealth Cricket Club Tournament played at the new pitcj of the Roma Cricket Club in Spinaceto by five teams in all with six-aside squads, umpires said.
 The Pakistan Embassy batted first in the final and effectively collapsed under the NATO onslaught, scoring just 39 runs, setting the all-British NATO team wearing distinctive camouflaged uniforms a low target of 40, which they achieved without difficulty.
In the play-off for third place, the Commonwealth Club of Rome team captained by club Chair Ed Mura defeated a UN agencies squad.
 In that play off the president of the Italian cricket federation and the manager of the Roma cricket ground scored 100 not out.
 Scores of Bangladesh Embassy supporters attended the tournament.
 Best fielder trophy was taken by Fernando Chathurika, of the Commonwealth Club of Rome team, with Fabio Marabini, president of the Italian Cricket Federation, presenting the trophy and others.
 Best food prize was awarded to Bangladesh Ambassador to the UN food agencies, HE Shameen Ahsan.
 The tournament was the fourth playes in Rome so far and resumed after a gap last year due to Covid.
 "The Italian Cricket Club has provided enormous support of the revamped Commonwealth Cricket Club," Mr Mura said.
 "No diplomatic sporting activity  could take place, however, without the mandatory cocktail party at the end."
 In other matches played NATO defeated the UN agencies, the CWCR beat the Bangladesh Embassy and UN agencies defeated the Bangladesh Embassy.
 jp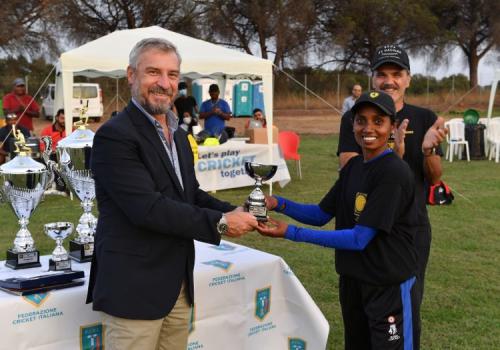 © COPYRIGHT ITALIAN INSIDER
UNAUTHORISED REPRODUCTION FORBIDDEN