Luxury Naples villas formerly of Maradona and Wilde up for sale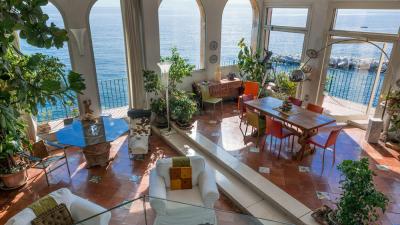 NAPLES - Several luxury villas have been put up for sale in the upmarket Posillipo neighbourhood of Naples, with two properties in particular drawing the attention of the market; those previously belonging to Oscar Wilde and Diego Maradona, respectively.
  Villa Del Giudice, along via Posillipo, hosted the Irish poet and playwright during his Neapolitan sojourn in 1897, when he was living under the name Sebastian Melmouth. The "beautiful villa on the sea," according to Wilde, boasts 600 square metres on four floors (one with an entirely separate appartment), high-ceilinged salons, views of Vesuvius and Capri, a terracotta floor with hand-painted majolica and a 500 square metre terrace over the sea. All for a mere five and a half million euros.
  The property, owned by the Italian branch of Sotheby's International Realty, has long had many admirers, but with the market just opening after a long period in which very few were looking to buy foreign property (and it most likely will be a foreign buyer), the villa is now getting much more attention.
  The other of Sotheby's biggest draws in Posillipo is the luxury villa known as Villa Nike, on via Scipione Capece - an address known to thousands of Neapolitans as the street on which the legendary Argentinian footballer lived during his stint at Napoli.
  Villa Nike, for a long time the residence of US Admirals in Naples, Villa Nike has been divided into several, equally luxurious sections. The southern section, with its views of Capri from every rooms is 850 square metres, with a laundry, gym, terrace and indoor and outdoor pool, all for only six and a half million euros.
  Just across the bay, on the island of Capri, there is also Villa Camarella, the former home of Italian director Carlo Ludovico Bragaglia. Eight hundred square meters, three stories, and a panoramic terrace with views of Naples, the villa has also hosted on several occasions the actor and comic Totò.
ol