Make your dining area feel luxurious in three ways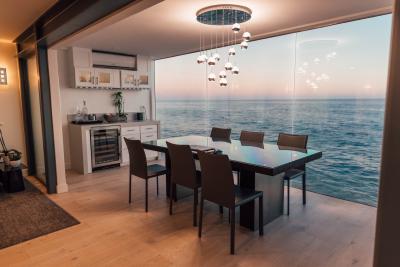 Have you visited a fancy restaurant? If you did, I'm sure no one would disagree with me when I claim that a fine dining establishment provides the best dining experience imaginable. I mean, don't you agree? The ambiance and the decoration also make the food even more appetizing. 
  Eating at a fancy restaurant is such a fantastic experience. However, the only restraint holding us back from experiencing eating in an elegant ambiance is the money. But what if there is a way to bring the vibes of a fancy restaurant to your dining area? If you are interested, you should definitely continue reading.
  1. Installing a Chandelier
  There are a variety of chandeliers that would look perfect in your dining area. However, if you are looking for a chandelier that can give a sense of luxury and elegance to your dining hall, you should invest your money in a rectangular chandelier. The style and ornamentation, as well as the crystals adorning the rectangular chandelier, give off a distinct vibe that would change your dining room into a posh 5-star restaurant.
  Of course, a chandelier like this isn't just for show. In the dining room, lighting is essential since it can enhance the appearance of the dishes served on the table, making them more appetizing. If you choose a chandelier that emits the wrong color of light, it may detract from the food presentation, resulting in a loss of appetite.
  A chandelier's calm, soft light is soothing to the eyes and accentuates the color of the food on the table. The cold white light complements the rectangular light's crystals well, brightening the space without being too harsh on the eyes.
  2. Choose one motif for your dining area
  Having a colorful dining area is suggested by many people because it increases the appetite for food. This is why you can see many colorful utensils, decorations, and colorful fruits in the dining hall. A dining area can present art. It is a good conversation starter, especially when you have visitors around.
  However, if you want to make it look elegant, you have to stick to one theme only. I recommend a black and white theme for your dining area because it incorporates class and luxury. 
  Consider a dark-coated glass table, a black marbled sink, white plates and cutlery, and matte black seats. Add a chandelier over the table for the finishing touch. That concept would make your dining area look expensive, which will also make the food look expensive as well. 
  3. Add accessories
  Adding accessories, not cooking or eating tools, but décor items, are great make your dining room appear more luxurious. I'm referring to expensive wine glasses, liquor bottles, homemade decorations, and even a dining mat. These may appear to be tiny elements, but they have a huge impact on the appearance of your dining room.
  Just using a wine glass to pour wine will transform your ordinary dining room into a 5-star restaurant experience. Golden forks and knives, along with gorgeous plates, would be ideal, especially if the main course is steak. 
  You now have the luxury of eating dinner in fancy and elegant restaurants if you apply all these tips in your dining area. Make sure to have a budget plan first before pushing through everything I've mentioned above. 
ol