'Vatileaks' butler of Pope Benedict dies at 54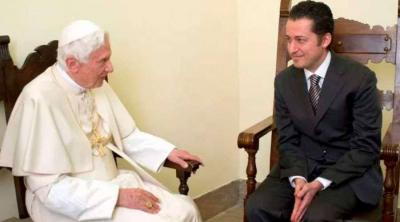 Pope Emeritus Benedict XVI with butler Paolo Gabriele
 VATICAN CITY – The former butler of Pope Emeritus Benedict XVI, Paolo Gabriele, who was convicted in the first "Vatileaks" case, has died aged 54, Vatican officials said.
 According to Vatican media Gabriele died Tuesday in a Rome hospital after a long illness.
 In 2012, after having served as Benedict's private butler for several years, Gabriele was arrested on charges of stealing confidential documents from the pope's desk and leaking them to Italian journalist Gianluigi Nuzzi, who went on to write a book about corruption in the Vatican.
 While searching his Vatican City apartment, police also found a cheque for 100,000 euros made out to the pope, a gold nugget and a 1581 edition of the Latin epic poem Aeneid.
 The magistrate held him responsible for the unprecedented disclosure of confidential documents that would bring the Church into disrepute and uncover internal power struggles.
 Gabriele was found guilty by a Vatican Tribunal in October 2012, and served a few months of an 18-month sentence before being officially pardoned by Pope Benedict XVI.
 He leaves behind a wife and three children.
 cc