'Soft' lockdown likely as infections surge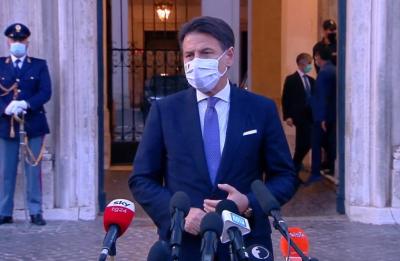 ROME – The continuing surge in coronavirus infections has Italian medical experts fearing hospitals will soon be overwhelmed, with the Conte government expected to implement a 'soft' lockdown Nov. 9 if Italy fails to flatten the curve, political sources said on Friday.
 Thursday's data not only confirmed the continuing surge in new cases but hospitalisations (17,615 including ICU) and deaths are also high (217). The nation recorded 26,831 new positive cases against 16,079 one week earlier. There were 201,452 tests performed.
  With a transmission rate (Rt) of 1.6, Italy is moving into a scenario 4 – the maximum contagion risk level.
 Italy's commissioner for the COVID-19 emergency, Domenico Arcuri has pleaded for Italians to stay home to prevent hospitals from being overwhelmed.
 "No health system would stand up to these numbers, much less in Italy. ICUs are not a problem at the moment, but I am not able to say if they will be enough if we fail to flatten the curve. The regions could have implemented the strengthening plan from May. We now have a big problem of crowding hospitals with the clogging of emergency rooms," Arcuri said.
 Arcuri announced expanded testing Thursday with Italy authorizing paediatricians and general practitioners to perform up to 100,000 daily rapid virus tests. This, in addition to the 200,000 tests currently processed by the public health system, means 300,000 can be carried out daily.
 A steady rise in new infections has been recorded in the regions of Lombardy (7,339), Campania (3,103) and Piedmont (2,585).
 Of the 3,103 infections reported in Campania, the regional capital, Naples, registered 1624. The city, which has been described as a "ticking time bomb ready to explode" has seen a sharp increase in hospitalizations prompting one infectious diseases expert to blame the Neapolitan custom of Sunday lunch and festivities.
 The threshold for a lockdown is 2,500 patients in intensive care (we are currently at 1,651) and some 35-40 thousand daily infections.
 Under this scenario, Italy would enter a soft lockdown based on the French model: companies, factories and offices would open but everyone would stay home and shops would be closed (except grocery stores). Excuses to leave home would include work; taking children to school; shopping; and medical reasons.
 cc