Pope refuses to be 'exploited' by Trump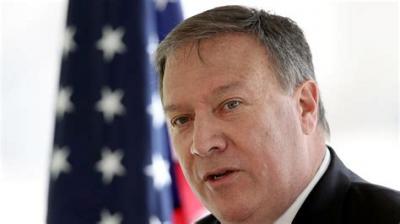 U.S. Secretary of State Mike Pompeo
 ROME – U.S. Secretary of State Mike Pompeo faces a frosty reception when he visits the Vatican Thursday after two senior Vatican officials accused the Trump administration of exploiting the Catholic Church in the middle of a U.S. election campaign, Italian media reported.
 Pompeo, who arrived Wednesday in the Eternal City on the second leg of a Mediterranean tour, repeated his request to the Vatican to postpone the agreement with China for the appointment of bishops at a conference on religious freedom.
 When asked if Pompeo's participation in the symposium was an attempt to exploit the pope during a US election campaign, Vatican Foreign Minister Archbishop Paul Gallagher replied "yes."
 The archbishop explained that the pontiff declined the meeting because he does not want to be exploited by Trump.
 Pompeo was Thursday meeting with his Vatican counterpart Cardinal Pietro Parolin, who said pope Francis had denied Pompeo's request for an audience as he avoids receiving heads of state or politicians ahead of elections.
cc