One million euros made at Circus Maximus from summer Opera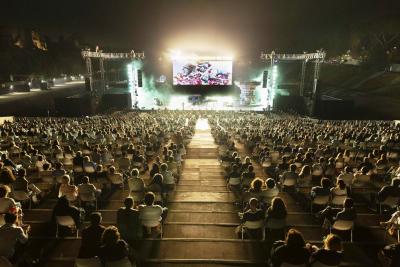 Opera evening at Circus Maximus Opera House
ROME - The summer season of the Teatro dell'Opera di Roma 2020 ended August 13 with an extraordinary finale.
 This summer the long-awaited appointment moved to the archaeological scenario of the Circus Maximus with a program as always characterized by an offer of excellence, starting with the new production of Rigoletto under the conduction of Daniele Gatti and the direction of Damiano Michieletto.
Twenty-one evenings of operas, ballet and concerts, welcomed with great favour by the public, for an edition that will remain historic. The new theatre was designed and built in just one month, in full compliance with anti-Covid regulations, ensuring interpersonal distancing and maximum safety for spectators, musicians and technicians.
The revenue reached 977,000 euros for a total of 22,918 spectators.
"This year - said the mayor Virginia Raggi, president of the Teatro dell'Opera di Roma Foundation - the summer season of the Opera di Roma at the Circus Maximus has taken on a highly symbolic value, not only because we were the first theatre of opera to restart in Europe with a new opera production in stage form. I thank the superintendent Carlo Fuortes and all the Rome Opera House for the important work they are carrying out and for the excellent results obtained thanks to the dedication of many who work with passion and commitment ".
"I would like to sincerely thank the mayor Virginia Raggi and all the municipal council for the trust placed in the theatre by granting us the precious availability of the space of the Circus Maximus and for the great support it has always reserved for the activity of our theatre - said the superintendent of the Teatro dell'Opera di Roma Carlo Fuortes -. We have won the challenge of creating a summer season that respects the anti Covid-19 regulations and, mainly, brings the spectators back to the Theatre. The public results were much higher than our expectations. It was a precious opportunity for all Romans and tourists who have returned to animate our city. I believe that Rome and the Theatre have fully fulfilled their role of public service ".
The programme was part of the new schedule of Roma Capitale Romarama.