Carabinieri arrested for alleged drug dealing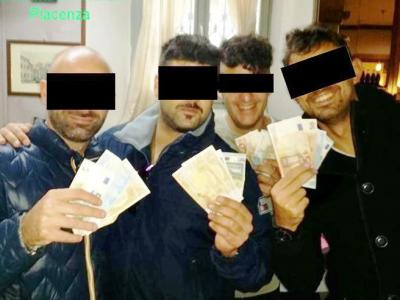 Two of the Carabinieri pose with two supposed drug dealers
PIACENZA -- A group of seven Carabinieri in the Levante barracks of Piacenza are facing legal challenges for various criminal accusations, including torture and drug dealing. On Wednesday, the police officers were reportedly shocked as they were lead to prison under a precautionary arrest filed by the judge of preliminary investigations, Luca Milani. Details had come to light of a "pyramid" of officers who face shocking allegations of abuse of power. It is claimed that the group, whose alleged leader is named as Giuseppe Montella, engaged in drug dealing, torture, illegal arrests and extortion. The barracks at Caserma Levante has been shut down as a result of the investigation.  
 Grazia Pradella, the prosecutor in the investigation, claims that the Carabinieri carried out illegal arrests to seize drugs which they would then re-sell. She described Montella, the corporal of the barracks, as having a "Gomorra-style attitude". At least seven police officers have been arrested with some in jail and others under house arrest, while houses, cars and current accounts have been seized by investigators. Overall there have been 22 arrests in the 'Odysseus' investigation carried out by the public prosecutor's office of Piacenza.
 Photographs, audio and text messages of those involved have come to light and a particularly controversial photo depicts two of the Carabinieri alongside two supposed drug dealers posing with large sums of money. One of the most alarming details from the trial describes an alleged false certificate handed out by the barracks for the illegal transport of drugs during the Covid-19 crisis to the badly affected region of Lombardy. The leader of political party Lega and ex-Deputy Prime Minister Matteo Salvini is quoted in Il Messaggero as saying, "Whoever makes a mistake, pays."
 So far, focus has centred on Giuseppe 'Peppe' Montella and details of his outlandish life. Il Messaggero reports that the officer, who is facing more than 50 indictments, owned 11 cars and 16 motorbikes, while the judge in the investigation described him as "living above the law and every rule of civil coexistence." On Saturday Montella answered questions for three hours and according to his defence lawyer, Emanuele Solari, "he cried and responded to all questions." Meanwhile Salvatore Cappellano, described by the judge as "the most violent element in the criminal gang," refused to respond to questions.
 In shocking recordings of phone calls, Montella can be heard boasting to his wife and child about the violence dealt out by the men during arrests. Furthermore, these recordings and transcripts of conversations contain racist language and in them Montella refers to his group as an "association for committing crime." Questions are being raised as to how high up this criminal activity was taking place within the police force and the ex-captain of the Levante station, Major Stefano Bezzeccheri, is also under investigation. The public prosecutors in the investigation describe Bezzeccheri as having a "confidential" relationship with Montella and are questioning his level of involvement.
 In court on Monday the commander of the Levante station, Marshal Marco Orlando, faced three hours of questioning from the prosecution but refused to respond. Orlando is accused of threatening to send a transsexual woman back to Brazil if she refused to co-operate with him, reports Rai News. The trial is ongoing as more details about those being investigated comes into public view.
jhh