Attempted bank robbery ends in chase and fatal crash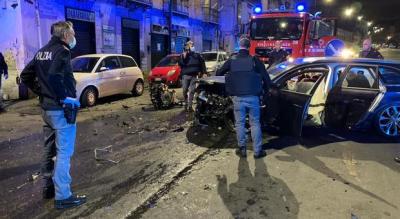 NAPLES – A policeman, 37, was killed behind the wheel of the car after his vehicle was rammed by bank robbers trying to make good their escape in the early hours of Monday morning, according to official police sources. Police agents were called out after a 4:00 a.m. report of a robbery at the Credito Agricolo branch on via Abate Minichini, Naples, and after the fleeing in their Audi A4, the suspects took a wrong direction, and were confronted by a police car trying to block them, report Il Fatto Quotidiano.
  In the crash, the policeman lost his life, his colleague was injured, and two fugitives, of Romanian nationality, were injured and arrested. A third man is still on the run, reports La Repubblica.
  The three criminals had been attempting to force open an ATM machine when the police arrived to pincer them from the Secondigliano police station, report Il Messaggero.
  After a short chase, the police created a blockade on via Calata Capodichino, and although this successfully stopped the fugitives, it came at a high cost. The local police commissioner, Alessandro Giuliano, expressed the "immense pain for all of us," on behalf of the police of Naples, as quoted in Il Mattino.
  Upon hearing the news, the Undersecretary of Defence, Angelo Tofalo, wrote in a statement to express his "solidarity to all the men and women of the State Police," and wished the injured colleague a speedy recovery, as quoted from Napoli Today.
jmj