Easter tests Italian lockdown as thousands evade police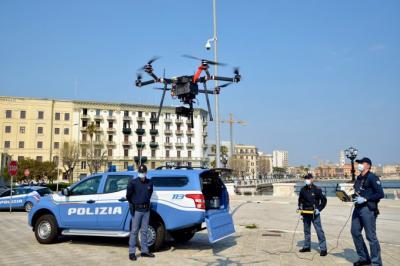 PHOTO CREDIT: OPEN.ONLINE
ROME –  Over the Easter weekend, 582,425 people were checked and almost 23,000 people were sanctioned by police, according to the data from the Italian Interior Ministry, with police having to strengthen their road controls and public presence as Italians were tempted outside to make the most of the traditional Easter break despite the Italian government's lockdown decree.
  The latest crackdown came as intensive care admissions fell for the ninth day, with experts such as Luca Richeldi of the Technical-Scientific Committee, confident enough to now identify it as a trend. The daily death toll also fell to 431 deaths over the 24 hours of Sunday, the lowest since March. The total number of cases in Italy now stands at 156,363, with 19,899 deaths.
  The terrible total death toll and the progress that has been made over the last nine days underlines the importance of the government's lockdown measures, which need to be abided by citizens.
  Over the weekend, the local police of Rome implemented checkpoints in via Aurelia, via Cristoforo Colombo, and via Pontina, in a crackdown that was replicated all over Italy, report Il Fatto Quotidiano.
  In Naples, the carabinieri intensified their checks over the Easter period, to avoid gatherings and violations of the anti-contagion rules, according to Il Mattino.
  Further south, in Salerno province, the prohibited gathering of people inside the church was reported, and the carabinieri acted to shutdown the gathering, imposing a fine of 280 euros for each of the 38 people in attendance, reports the Napoli Flash.
  Meanwhile, in Palermo on Sunday, 4,209 checks were carried out, with 413 citizens sanctioned, and four citizens arrested for resisting the police, according to data from the prefecture.
  The crackdown led to a spate of rooftop barbeques over the weekend as one method of evading police controls. On Sunday a police helicopter surveilling a rooftop barbeque in Sperone was put in danger when fireworks were launched from the rooftop, report La Repubblica.
  Italy has been placed under special surveillance during the coronavirus emergency, and alongside the use of helicopters authorities are also monitoring developments using 'operating rooms' that can check license plates in Rome, use drone feeds to observe woods in Bari, and deploy motorboats to monitor the bridges of Venice, as reported in Il Sole 24 Ore.
  "From the control room of the State Police it is possible to coordinate the activities that are carried out throughout the national territory," explained Vincenzo Nicolì, Control Director of the State Police, as quoted in Il Sole 24 Ore.
jmj