Florence cultural forum an opportunity for all
PHOTO CREDIT: LOVEITBOOKIT
ROME – An international forum on 'Building peace through heritage', which aims to promote networking, communication, knowledge, conservation and the economy, will be introduced in Rome on Feb 18, at the Foreign Press Association. It will give further details on the annual meeting, which this year will take place in the heart of Florence over March 13, 14 and 15, 2020.
  The forum will focus on economic, socio-cultural and environmental aspects of sustainable development as well as focusing on the communication between different places and their cultural expressions.
  The International Life Beyond Tourism Institute was born in Florence, a city famous for ideas and a meeting place for different cultures. The annual event will be dedicated to the central themes of Life Beyond Tourism's manifesto, which are the construction of peace through heritage and change through dialogue. On the occasion of the twelfth General Assembly there will be numerous speakers from the 111 countries of the Life Beyond Tourism network.
  This is a unique opportunity to network and discover other cultures. Alongside with the twelfth General Assembly, there will be a scientific symposium called 'Building Peace through Heritage', an award ceremony for the 'Heritage for Planet Earth' photo contest, a 'Life Beyond Tourism' showcase, an exhibition of cultural expressions from Azerbaijan, and many other cultural events.
  The International Life Beyond Tourism Institute's fundamental values which it promotes in the world includes safeguarding of heritage sites and artefacts and promoting economies by spreading the creativity the artisans and companies, while also maintaining deep traditions in this international cultural environment.
  The event is aimed at experts and non-experts, university students and entrepreneurs, as well as companies and small artisans. Diversity in participation is vital for the growth of the forum, which in turn grants an easy approach into new markets, countings as it does on a large network of governmental and non-governmental institutions.
  "We must change our perspective in the shortest possible time, and not do it for future generations but already for ourselves," said United Nations Secretary General Ban Ki Moon in a UN Synthesis Report. "We are called to embrace change. Change in our societies. Changes in the management of our economies. Changes in our relationships with our one and only planet."
gn/jmj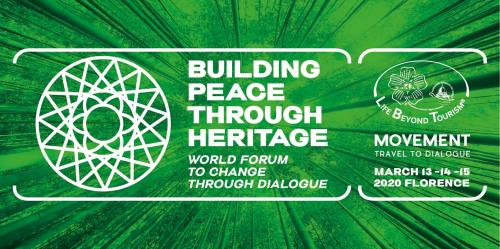 PHOTO CREDIT: LIFEBEYONDTOURISM