Italy returns refugees to 'unimaginable suffering' in Libya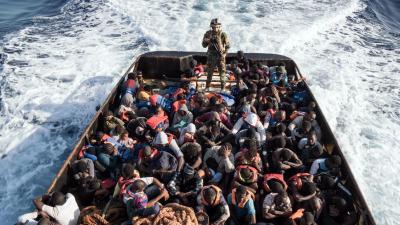 ROME – Italy are to continue to send asylum seekers to Libyan detention centers where they have been subject to torture and rape, reveals a press release from Amnesty international.
  The 'Memorandum of Understanding on Migration between Italy and Libya' will be extended this Sunday for three more years without amendments, which means in practice that Italian maritime authorities will continue to assist Libyan maritime authorities in stopping boats and returning them to detention centers in Libya. The Memorandum first came into effect on Feb. 2, 2017, signed between the Italian Prime Minister, Paolo Gentiloni, and leader of the Libyan Government of National Accord, Fayez al-Serraj.
  In the Memorandum, Article 2 commits Italy to aiding in "the completion of the system of border control in Southern Libya" and the "adaptation and financing of the reception centers." Although 145 countries are signatories of the 1951 Refugee Convention, Libya is not one of them.
  "During the three years since the original deal was struck, at least 40,000 people, including thousands of children, have been intercepted at sea, returned to Libya and exposed to unimaginable suffering. These include 947 people intercepted this month alone," said Marie Struthers, Amnesty International's Europe Director.
  One example of abuse in Libyan detention centers emerged when The United Nations Support Mission in Libya (UNSMIL) reported in 2019 that, in a detention center in Tajoura, a town in the north-west of Libya, refugees were being beaten with water pipes, metal bars, rifle butts and sticks, as well as being forced to squat for prolonged periods of time, according to an official UN report. 
  SOS Mediterranee have also issued a press release, in which they have denounced the role the EU plays in empowering the Libyan maritime authorities. In the European Council's 'Malta declaration', Article 6 confirms the EU's support for Italy in its implementation of the Memorandum of Understanding. "The European Union has laid the foundation for a massive breach of international law, financed by European taxpayers' money," said Sophie Beau, International Vice-President of SOS Mediterranee.
  The Coucil of Europe Commissioner for Human Rights, Dunja Mijatović, released a statement on Friday in which she re-stated the prevelance of human rights violations in this case. "I therefore call on the Italian government to urgently suspend the co-operation activities in place with the Libyan Coast Guard that impact, directly or indirectly, on the return of persons intercepted at sea to Libya until clear guarantees of human rights compliance are in place."
jmj