Arrivals from China screened for coronavirus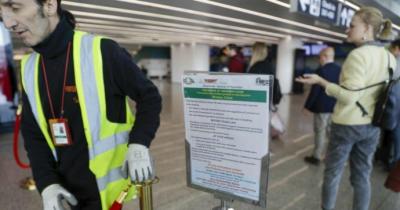 PHOTO CREDIT: ILLFATTOQUOTIDIANO
ROME – A flight from Wuhan to Rome landed in Fiumicino on Thursday morning after taking-off from Wuhan just before Chinese authorities cancelled all future departures, reports Corriere Della Sera. 
   Passengers on the last permitted flight, many of whom were wearing masks, were made to go through a health check due to the contagion risk of the new coronavirus (2019-nCoV), according to official sources. There were 202 passengers on board the China Sourthern Airlines flight, and they each had their body temperatures recorded under a thermoscanner to check for symptoms of the virus, Avvenire reported.
  The Italian Ministry of Health, which had originally recommended Fuimicino's terminals be decentralized in case of contagious outbreaks, has increased surveillance measures and ordered checks by doctors, Agenzianova reports.
  The aircraft landed at 4.50 am and the checks were finished by 6.00 am. No passengers were identified as carriers of the virus. If passengers had been found to be carrying the virus, they would likely be transferred to the Spallanzani National Institute of Infectious Diseases, according to Avvenire. In case the disease developes at a later date, each passenger was made to fill out forms indicating their planned destinations. 
  The World Health Organization has said that the risk of the virus spreading to Europe is moderate, and will have an emergency meeting on Thursday to determine whether the outbreak is an international health emergency, reports The Telegraph. On Jan. 11, the director of the World Health Organization, Tedros Adhanom Ghebreyesus, thanked the Chinese Minister of Health Ma Xiaowei for his efforts, and said that the "WHO received genetic sequences for the novel coronavirus from the Chinese authorities." Genetic sequencing of the coronavirus will facilitate detection in carriers, according to updates from the Centers for Disease Control and Prevention.
  The outbreak of the virus occurred in the city of Wuhan, which is now under quarantine along with Beijing. Coronaviruses are thought to be transmitted from animals to people. Chinese scientists have published a thesis claiming that the virus originated in snakes, reported Il Fatto Quotidiano. The coronavirus is said to have caused 25 deaths and 600 infections so far, although researchers think that the number of infections has been underestimated, according to the Guardian.
jmj