Mafia attack on old people's home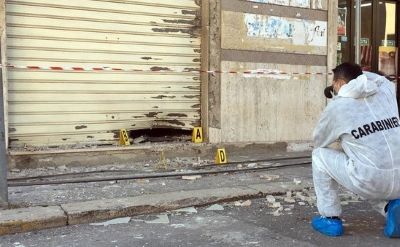 Photo credit: Il Messaggero
 FOGGIA – Italy's ministers have announced they will strengthen the country's anti-mafia forces after a bomb exploded in an old people's home linked to a witness in a mafia trial, judicial sources reported.
 No one was hurt in the attack.  The "Il Sorriso di Stefano" centre was run by the "Sanità più" group, where Cristian Vigilante – who had already suffered a mafia attack on Jan. 3 – has responsibility for human resources.  He is a witness in an inquiry against the Foggia mafia run by the Anti-Mafia District Directorate (Dda.)  On Jan. 3, a very powerful bomb was detonated under his car.
 The trial is against 29 alleged members of the Foggia mafia including two people accused of attempted extortion against the old people's centre.
 In response, Interior Minister Luciana Lamorgese has said she will send a special police force to Foggia, while Prime Minister Giuseppe Conte said on Twitter, "Investigators are already at work, and we will not give rest to those who think to banish legality, freedom and justice with violence. We will win this battle together."
 The anti-mafia association Libera organised a march in Foggia on Jan. 10 which drew 20,000 people, including Minister of Agriculture Teresa Bellanova, president of ANCI and mayor of Bari Antonio Decaro and president of Puglia region Michele Emiliano.  In response to the latest attack, they commented there would be "no step back" in their anti-mafia campaign.
 im