Daphne memorial can stay, says new Malta PM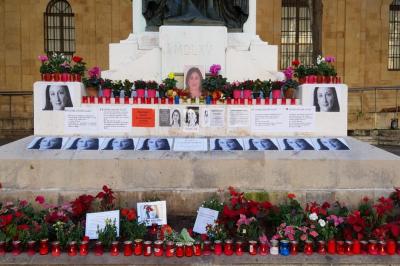 The memorial to Daphne Caruana Galizia. Photo credit: The Times of Malta
 LA VALLETTA – New Maltese Prime Minister Robert Abela has said a temporary memorial to Daphne Caruana Galizia can remain in place as civil society groups call for him to make a public apology to the murdered journalist's family, Maltese media report.
 Abela took office after the resignation of Joseph Muscat over the investigation into Caruana Galizia's death, and was widely viewed as a continuity candidate.  However, he appears to be taking some steps to distance himself from the previous administration's policy regarding the murder and its fallout.
 He announced Thursday that he had issued instructions for the memorial to Caruana Galizia, established at the foot of Malta's Great Siege Monument, not to be removed.  Previously, government workers had repeatedly cleared it away, although Minister Owen Bonnici, who was discovered to be directing the removals, always insisted this was because the dripping wax from candles were damaging the monument, The Times of Malta said.
 Hours later, a representative for civil society group Occupy Justice asked for Abela to issue a public apology to Caruana Galizia's family within 30 days.
 Abela also made drastic changes to the government's cabinet.  As part of the reshuffle, Abela refused to reappoint Chris Cardona – who suspended himself as the turmoil over the investigation intensified – as Economy Minister.  Abela is understood to have offered Cardona a different brief, which he refused.
 Cardona was briefly questioned by police in connection with the Caruana Galizia investigation in 2019.  An alleged transcript of a letter linking him to the murder has also been published online.  The note, allegedly passed between murder suspect Yorgen Fenech and Keith Schembri (Muscat's former chief of staff, who resigned over the murder), attempts to blame the car bomb which killed Caruana Galizia on him and is apparently supposed to be a script for Fenech in speaking to investigators, The Times of Malta reported.
 Cardona has said the claims in the letter are unfounded.
 Both candidates to be prime minister said they would not reappoint Konrad Mizzi, who resigned in November as the investigation into the murder progressed.
 Meanwhile, Caruana Galizia's three sons have written an open letter to the Council of Europe's monitoring committee condemning what they view as a lack of commitment by Abela to implement recommendations by European Union bodies.
 Abela has since pledged to implement the recommendations of the Venice Commission regarding Malta, and has said he will discuss the best way to do so. 
  "We will make the necessary arrangements in the coming days and weeks," he told The Times of Malta.
 im