Schools ordered closed due to bad weather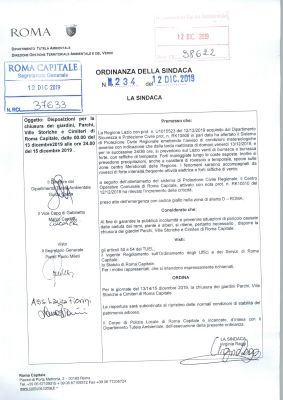 The order to close schools signed by Virginia Raggi. Photo credit: Twitter
 ROME – Schools, public parks, cemeteries and historic villas were closed in the Eternal City as a result of bad weather Friday, local authorities said.
 The city's mayor, Virginia Raggi, ordered them all closed from Friday night until Sunday night.
 Lessons have also been suspended at the city's Sapienza university and the mayor advises limiting travelling as much as possible, Il Messaggero reports.
 Heavy rain, thunderstorms and strong winds are forecast, Rome's city council reported.
 However, many have been complaining that there was not enough notice of the measures, which were announced only on Thursday evening, leaving parents without time to make arrangements for children unable to go to school Friday, Il Messaggero said.
 im