Demonstration held in support of Liliana Segre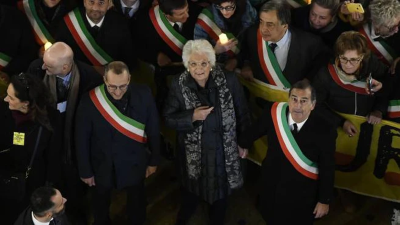 Liliana Segre (centre) with the mayors in support of her. Photo credit: Il Giorno
 MILAN – Mayors from all over Italy gathered for a demonstration in support of Liliana Segre, the 89-year-old Holocaust survivor and senator for life who has recently been targeted by vicious online abuse and threats.
 The 600 mayors were accompanied by thousands of ordinary people who joined their march on Tuesday night, which had been organised by the mayors of Milan and Pesaro, Corriere della Sera said.  They walked behind a banner reading "L'odio non ha futuro" meaning "Hate has no future."
 In Milan's Galleria Vittorio Emanuele II they sang "Bella ciao," the Corriere della Sera reported.
 Segre, who was recently assigned police protection in view of the threats she has received, said "We are here to speak of love and not of hatred."
 im