Vivienne Westwood private sale at Villa Wolkonsky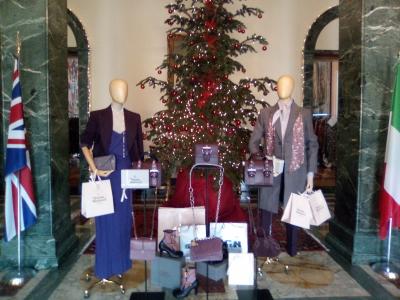 A Vivienne Westwood display at the Villa Wolkonsky. Photo credit: Isabella Massam
 ROME – A private sale of clothes and accessories designed by Dame Vivienne Westwood was held at the British Ambassador's Residence in Rome Wednesday to Saturday, with some proceeds going to the charity Oxfam.
 The clothes on sale, taken from a variety of shops and collections, ranged from sweatshirts to evening dresses, and there was an impressive array of handbags, purses and accessories also available.
 For the "VW at VW" event, the tapestry-lined rooms were transformed into something a little like a boutique, with racks of clothes against the walls, jewel-coloured handbags lined up along a central table, and coffee with delicate slices of cake on offer to the shoppers.
 This is the fourth year in which a Vivienne Westwood private sale with some profits to charity has been held at the Villa Wolkonsky.  The British Ambassador's residence in Rome, the beautiful villa is surrounded by extensive grounds and situated in the San Giovanni area of the city. 
 Westwood and the British Embassy have a history of collaborating to create such events and benefit charities – in previous years, British Ambassador Jill Morris has made headlines by trying the outfits herself.  The Villa Wolkonsky has also hosted separate events in aid of Oxfam in the past, for instance raising thousands with "Tango for Oxfam" in 2017.
 Marina Iremonger of the British Consulate-General in Milan explained that the private sales in Rome worked particularly well as there is no Vivienne Westwood boutique in the city, although there is an extensive one in Milan.
 There was a great deal to like among the pieces on offer from Britain's most iconic designer.  The statement extravagance beloved by the fashion world was well represented at the private sale, but so too were items more suited for everyday wear, such as dark woollen coats in a military style, with a slight Westwood twist.  
 im