Florence and Warsaw cooperate for citrus collections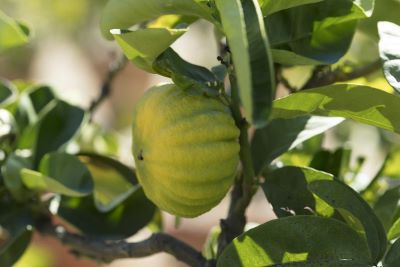 Citrus limon mellarosa at the Boboli Gardens, photo credit Gallerie degli Uffizi
 FLORENCE – The Boboli Gardens and the Wilanów Palace Museum of Warsaw are working in partnership to look after and promote their historic citrus plant collections, The Florentine reported.
 The "Citri et Aurea" project aims to share knowledge and develop best practice for creating and caring for citrus collections. It is financed by the Polish Ministry for Culture and Heritage, and supported by the Polish Institute in Italy and the Polish Academy of Science in Rome.
 The "Citri et Aurea" project has already begun in Florence, with three Polish specialists exploring approximately 90 varieties of citrus plants in the extensive gardens behind the Pitti Palace.
 Florence's Boboli Gardens were established in in the 16th century by Cosimo I, the first Grand Duke of Tuscany.  The Boboli citrus collection is one of the most important of its kind in Europe, including variations such as the Bizzaria which combines Florentine citrus and bitter orange. 
 "We are happy to be a strategic partner of this project, which sees strong ties between Florence and Poland," Eike Schmidt, director of the Uffizi Galleries, said.
 Paweł Jaskanis, the Wilanów Palace Museum's director, quoted in The Florentine, drew attention to the historic links of such a project – "The realm of King Jan III was a renaissance for Polish-Florentine artistic and scientific relations. From the vast correspondence between the court of Sobieski and Medici, gardens emerge as another area of collaboration. Thanks to the kindness and friendship of Cosimo III, the Polish king acquired numerous exotic plants, including citrus, which adorned his new residence in Wilanów."
 im