Salvini dinner with entrepreneur in graft probe quizzed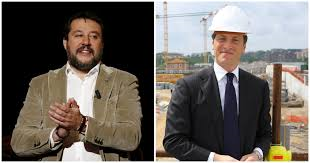 Matteo Salvini and Luca Parnasi. Photo Credit: Il Fatto Quotidiano
 ROME – An investigation has uncovered a link between League leader Matteo Salvini and building entrepreneur under investigation for alleged corruption, Luca Parnasi, judicial sources said.
 It was revealed Wednesday that investigators discovered Salvini, Parnasi, and League treasurer Giulio Centemero, along with prominent League leader Giancarlo Giorgetti, had dinner together on Dec. 19, 2017.  According to L'Espresso, this meal took place at Parnasi's home.
 Parnasi has been under arrest on charges of alleged corruption in the building of Rome's new stadium since June.
 Centemero and Parnasi are both being investigated for Parnasi's alleged payment of 250,000 euros to the Più Voce association, which the Roman prosecution court believes to be a form of illicit financing of the League party, La Stampa reported.
 The details of the dinner with Salvini were reconstructed from messages on the Telegram app taken from the phones of the Centemero and Parnasi.
 The investigation is also looking further back, said La Stampa, to some 125,000 euros transferred from Parnasi's company Immobiliare Pentapigna to Più Voce, this time allegedly organised between Parnasi and League politician Andrea Manzoni.
 In a separate thread of the probe, the former Democratic Party treasurer Francesco Bonifazi (now of Italia Viva) is being investigated in relation to alleged money transfers from Parnasi to the party, L'Espresso said.
 Salvini has never denied being linked to Parnasi.  After the latter's arrest in June, Salvini stated, "he's a friend."
 In 2016 Parnasi was invited by Centemero to a League fundraising event.  Since then, La Stampa reports, the two have had frequent meetings.
 Messages between them on the Telegram app include questions about how payments should be made, Il Messaggero reports.
 jp-im