Thousands protest against Salvini in Modena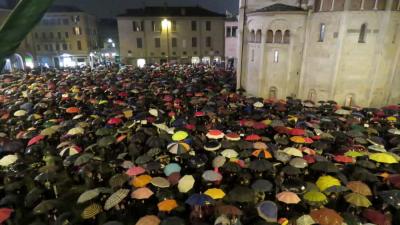 The protest in Modena. Photo credit: Modena Today
 MODENA - Over 6,000 people crowded into Modena's Piazza Grande on Monday to demonstrate against Matteo Salvini and the League, in a second triumph for the "sardines" protests, said the protest organisers.
 Undeterred by the pouring rain, the crowd chanted "Modena non si lega" and sang "Bella ciao," the partisans' resistance anthem from World War Two.
 Matteo Salvini, leader of the right-wing League party, was in Modena to campaign for the party candidate for the upcoming Emilia Romagna regional elections on Jan 26.
 At 7 p.m. Monday the main square began to fill up with people, carrying umbrellas and paper sardines.  The sardine symbol was first used on Thursday in Bologna, where a protest organised by four people over Facebook drew crowds of over 10,000 to protest against the League, who were launching their Emilia Romagna campaign in the university city.  The sardine symbol references the idea of a large number of small fish crowded together.
 La Repubblica Bologna put the number of protestors in Modena at 7,000.  Organisers have said that they will continue the fight.  Il Fatto Quotidiano reports that more sardine protests are expected in Tuscany and Campania.
 "In Modena too a square full of sardines, evviva!" Nicola Zingaretti, the leader of the Democratic Party, tweeted.  Recent polls suggest that the Democratic Party could be on course to win the Emilia Romagna elections.
 im