Trump dubs Mattarella 'Mozzarella' in White House fiasco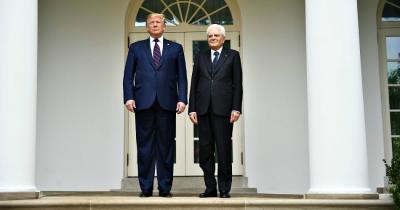 WASHINGTON – When Italian President Sergio Mattarella met his American counterpart at the White House for a quick and frank meeting over trade issues and the avoidance of retaliatory tariffs, Donald Trump didn't respond in the way he had hoped. Indeed some media quoted him as calling the Italian head of state 'mozzarella' and claiming that Italy and the United States had been friends "for thousands of years." 
 The American President said the EU has already obtained favours, referencing aid to Airbus. 
 The meeting between the pair came days before the U.S. plans to impose tariffs on EU goods, primarily penalizing the Italian agri-food sector.
 "I hope it is possible to find a collaborative way to face this that avoids a spiral of retaliation," Mattarella said. "And we must look for it immediately."
 Trump reacted by saying the EU should not think about retaliation against the U.S. after the decision of the World Trade Organisation (WTO) on aid to Airbus.
 The discussion then turned to import-export taxation – 
 "It seems preferable to me to immediately discuss and take into account the different positions," Mattarella said. "The alternative is the risk of putting ourselves on the road that in any case will require reaching common ground and then we might as well look for it immediately."
 "Trade tensions are not beneficial to anyone and the mutual imposition of duties is counterproductive and harmful to our economies," he added.
 But Trump held his position, responding that duties would not be a retaliation, because "the European Union has already gained advantages," and took advantage of the previous U.S. presidents. 
 The American tycoon said he would never be harsh on Italy and will "carefully evaluate" the grievances of Rome, noting that America's role is insignificant.
 "Italy has a problem on how the 7.5 billion dollars of duties have been divided, I think I've had a minor role compared to other countries like France or Germany," he said.
 "In theory, there can't be a retaliation because … this was an award that we got for the unfair treatment given to the United States by the European Union," Trump said. "This was getting us even."
 On the topic of the Turkish offensive in Syria Trump stressed the Kurds are "well protected, they aren't angels."
 "The PKK is a worse threat than ISIS," he said. "Sanctions are more effective than the presence of U.S. troops to maintain stability" in the area.
 In reference to Russia's support for Bashar al-Assad's government Trump said – 
 "Syria can get help from Russia and that's fine. There is a lot of sand to play with there."
 He concluded by reiterating the administration line – 
 "Let Turkey and Syria fight their war, I don't want to be a part of a war between Turkey and Syria."
 President Mattarella, however, condemned Turkey's operation in north-east Syria.
 He said Italy is "deeply concerned about Turkey's offensive against the Kurds."  
 "There are already many victims among civilians and many displaced people," Mattarella said. "We risk offering unexpected spaces to ISIS."
 Then at a joint press conference the U.S. president attacked Italian contributions to NATO – 
 "Italy only pays one per cent instead of two per cent. I hope it will increase military spending."
 But he congratulated Italy on the purchase from the United States of as many as 90 F-35 warplanes (at an estimated cost of 14 billion euros) and claimed the programme is going well. However, only 20 of the aeroplanes have actually been bought and the agreement is to be renegotiated due to the opposition of ruling coalition party Five Star Movement to the deal.
 cc