Forty injured as bus ploughs into tree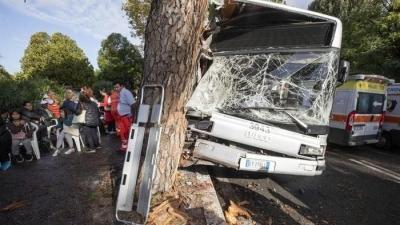 ROME – Around 40 passengers were injured when a city bus collided with a tree shortly after 9 a.m. on Wednesday.
 The incident, which occurred on via Cassia, has left nine with serious injuries, but none are believed to be life threatening.
 Those most seriously injured were at the front of the bus at the moment of impact.
 Ambulances rushed patients to eight hospitals around Rome.
 Reports the bus driver had been distracted by his phone have yet to be confirmed. But the driver's cell phone has been seized for investigation.
 ATAC - Rome's public transport company – has opened an internal investigation "to ascertain the reasons for the serious accident" involving the bus on the 301 route.
 The company has also apologized to the passengers involved, assuring it will verify what happened to establish liability. 
 The bus had been in service for 12 years, while the driver, also wounded and taken to hospital for alcohol and drug tests, has been operating buses for seven years.
 cc