Fines revenue 'wasted' as potholes riddle Rome roads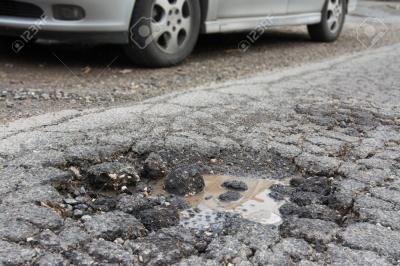 ROME – The local administrations of Rome are being investigated for allegedly using funds from its system of draconian fines intended for road maintenance on "bizarre" expenses, all while Rome's battered streets undergo minimal poor-quality fix-ups to patch potholes, Il Messaggero reports. 
 The funds in question are those received from fines issued by the feared Vigili Urbani or municipal police to Roman citizens, revenue from which is in theory earmarked for road safety and maintenance projects, in line with the Italian Traffic Code.
 But a scan of the documents on "expenses financed by the proceeds of fines," uncovers the most disparate budgetary commitments: 500,149 euros for the "cleaning of premises," another 4,450 euros for "consumables for cleaning," such as rags and detergents, according to Messaggero.  From 2016 to 2018, as much as 208,128 euros was spent on "office and accommodation accessories," while 8,850 euros was splurged on "maintenance of furniture and décor;" 26,000 euros for porter services (transport or storage of goods and documents), 45,000 euros on "museums and exhibitions," 57,828 euros for "weapons and ammunition," plus a series of "allowances" were paid to police.
 The law does allow for a slice of the funds to be allocated to agents. But these are in circumstances to do with "welfare," "seasonal hirings," "projects to strengthen controls" and the reinforcement of "night services."
 On the other hand no compensation is mentioned for extras such as "clothing maintenance," "managing valuables" or for "specific responsibilities," which are distributed freely to anyone assigned a task, regardless of the results.
 A list of expenses funded via the proceeds of fines was given to the Public Prosecutor, who is determining if there have been violations or illegal acts, Messaggero added.  
 The municipality assured the "maximum collaboration with the judiciary" and said it was certain it had "respected the law," which dictates that up to 50 per cent of the funds are to be allocated for "maintenance operations."
 In reality, 50 per cent is the minimum quota. 
 The Traffic Code clearly states that each local authority is free to "allocate all or part of the remaining share" for spending on road safety.
 So the alleged misappropriated funds could have been spent on making local roads riddled with potholes safer.
 The Five Star Movement (M5S) has repeatedly complained about the lack of funds. And municipal staff admitted in a document that, "the real maintenance needs" don't match "budget availability." Yet the proceeds of the fines have been spent on furniture, porters and clothing, among other expenses.
 Meanwhile, on the streets we see the usual quick fixes -- in Viale della Serenissima in Rome's eastern suburbs, only one of two roads has been redone, as in the via dei Campi Sporitivi and in via Trionfale. While in the via del Porto Fluviale in Ostiense, only the central part of the road has been paved, not the sides. In via Cassia the workers stopped before the pedestrian zebras. 
 These are just a few examples, not to mention the at best shoddily patched-up holes found all over Rome.
 cc