FAO business as usual with unsavoury regimes?
FAO DG Qu Dongyu with the Azerbaijan Foreign Minister
 ROME — After what now looks like the token axeing of the FAO HR director for alleged serial sex harassment, the new Chinese supremo at the UN poverty-busting agency seems to be following in the footsteps of his predecessor by hobnobbing with envoys from dodgy regimes such as Azerbaijan and generating vast quantities of hot air, FAO watchers say.
 According to the FAO website Qu Dongyu had a 'major meeting' with senior staff members and reported on all the latest developments since he took over last month from Brazilian 'caudillo' José Graziano da SIlva.
 Mr Dongyu raised some hope of change at the Rome-based agency when he fired Fernando Servan, the long-haired Peruvian HR director who was dubbed a 'sex predator' by the NGO 'Hear their cries' and also let go the Inspector General after he took a long absence on medical leave without a sick note. But there is little sign of other dead or rotten wood being excised at the top of the FAO.
 "It is generally believed that the Fernando case and that of the inspector general were token cosmetic measures," said one seasoned diplomatic observer.
 "If you look at all the pictures on the Website, especially, for this management meeting, and also for the recently-held meeting of the three Rome-Based Food Agencies (RBA's), you'll see that all the 'usual suspects' are still there," the source added, speaking on condition of anonmity.
 Meanwhile the Azerbaijani state news agency Azertac reported that Azerbaijan`s Foreign Minister Elmar Mammadyarov met with Qu Dongyu Monday at the vast FAO headquarters.
"Congratulating Qu Dongyu on his election as the Director-General of FAO, Minister Mammadyarov wished him success in his activities, and expressed his confidence that cooperation between Azerbaijan and FAO would continue to strengthen," Azertac gushed. As the Azerbaijan report had it, Dong Yu considers Azerbaijan the most important FAO partner, well above major donors like the United States.
 "Expressing his gratitude for the congratulations, Director-General Qu Dongyu hailed his meeting with Elmar Mammadyarov as the first foreign minister he meets in his current position, and regarded Azerbaijan as the most effectively cooperating country with FAO," Azertac said.
 "Qu Dongyu highly appreciated the activities of Vice-President of the Heydar Aliyev Foundation Leyla Aliyeva as Goodwill Ambassador of the FAO and called the establishment of FAO Partnership and Coordination Office in Azerbaijan as a positive experience."
 Several independent bodies, such as Human Rights Watch, have repeatedly criticized the Azerbaijani government for its human rights record. Among other concerns, authorities have been accused of arbitrary arrests, indefinite detentions, severe beatings, torture, and forced disappearances.
 Maltese investigative journalist Daphne Caruana Galizia was murdered in 2017 after probing connections between Azerbaijan and money laundering on Malta with the complicity of Maltese politicians https://theshiftnews.com/2019/01/23/malta-and-the-laundering-of-azeri-mo...
  jp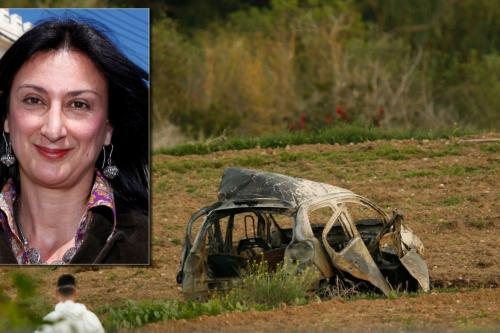 Murdered Maltese reporter Daphne Caruana Galizia probed Azerbaijani 'laundromat' in Malta