Fugitive bear captures nation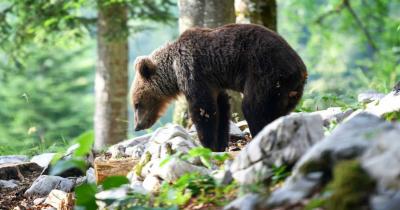 Photo credit: Il Fatto Quotidiano
 BOLZANO - For two months a bear known by letter and number M49, much like a prisoner, has been on the run, evading capture, leaving authorities fearing eventual human casualties. But environmentalists say the bear they have dubbed "Libero" or "Papillon," is harmless and should be allowed to roam free as nature intended.
 Authorities are determined to recapture and transfer the 'fugitive' to a wild animal facility capable of containing its strength, avoiding a repeat of the episode which saw the young bear climb to freedom over four and a half metres of electric fence the evening of July 14, just hours after its capture.
 Recent sightings in Passo Oclini-Passo Lavazè, where M49 was spotted rummaging through rubbish piled outside the caravan of two shepherds, devouring honey in a beehive and attacking a calf, prompted the Governor of Bolzano province to echo the actions of his Trentino counterpart, by signing a warrant for the capture of the mammal.
 While a task force has been set up to apprehend him, the Director of the Office for Hunting and Fishing Luigi Spagnolli told Rai the bear can neither be captured, nor killed, given it is protected by European legislation, which only allows the possibility to stun him and put on a radio collar – a type of electronic bracelet to monitor movement.
 Environmentalists have railed against the decision with Lorenzo Croce – National President of the Italian Association for Animal and Environment Protection (AIDAA) – filing a complaint to the Public Prosecutor's Office of Bolzano.
 "The bear would have gone to a trailer where two shepherds were staying, but he would have been frightened away by the foresters who would have fired some rifle shots in the air," Croce said in relation to the Passo Oclini incident.
 The National Animal Protection Agency (ENPA) has issued a warning.
 "Nobody touches the bear, we will report anyone who harms him," they said.
 "Politics does not want to do prevention, but just safeguard seats on animals skins. Enough with declarations and political speeches for the benefit of farmers and extremist farmers." 
 Also weighing in, Environment Minister Sergio Costa, who has called for M49 to be allowed to live. 
 Isabella Pratesi of World Wide Fund for Nature (WWF) said the bear is simply following its natural instincts and doesn't pose a threat to humans.
 "The M49 bear, which for us is called Libero, is simply living its life, free in nature, as all animals should do," Pratesi said.
 "It has never been dangerous to men, yet it has already been unjustly subjected to traumatic events (such as electric shocks), abused and hunted only for having followed its nature. It caused damage amounting to a few thousand euros, which should be compensated, but we must learn to consider bears a value to our territory, not a threat."
 cc