Alleged police-killer feared being strangled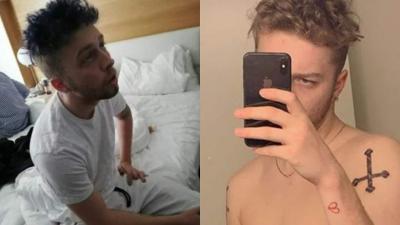 ROME – Finnegan Lee Elder believed he was "the target of an attack," claiming he was "afraid of being strangled" and that he didn't know the man he allegedly killed was a Carabiniere paramilitary policeman. This is the version of the incident the 19-year-old American, who has confessed to the murder of deputy brigadier Mario Cerciello Rega, conveyed to his lawyers, according to judicial sources on Monday.
  Reading a statement on behalf of the Elder family in front their home in San Francisco, attorney Craig Peters expressed the family's condolences to the slain officer's family.
 "We continue to hold his family in our thoughts and pray for them at this difficult time," Mr Peters said with the family – father, mother and sister – huddled behind him.
 "We have seen our son Finnegan. He is OK, even if tired, remorseful and scared. He has our full support and we stand by his side. Now we want to get more information on this incident and we have a plan to get to the truth. I returned home, 6000 miles away, to take care of the rest of my family," read the statement, a reference to the father of Finnegan, Ethan Elder's return to California after visiting his 19 year-old son in the Regina Coeli prison in Rome.
 Elder thought he was being strangled by a strange man and he didn't know Mario Cerciello Rega, 35, was a plainclothes policeman, according to court documents.
 "We are working to establish what happened that night in all phases of the incident and to try to understand if there are witnesses or images that could provide useful information," Elder's lawyers Roberto Capra and Renato Borzone said. 
 Finnegan Lee Elder's father has asked to see the video of the attack: "We are focused on working with Finn's lawyers to establish all the facts. We hope the prosecution will produce the video footage of the incident to show what really happened."
 Images, however, that the Prosecutor's Office and Carabinieri Corps have claimed don't exist. The defense has decided that it will lodge an appeal. In the meantime the murder investigation continues. In recent days, several hearings have been held in the Deputy Prosecutor's Office.
 Among those heard was Andrea Varriale, the colleague on patrol with Cerciello from midnight on July 26. Some rumors have been circulating that he had also been without a gun that night. Inferences immediately refuted by the provincial command of the Carabinieri Corps, reiterating that Mr Varriale was on duty and had been carrying his authorized weapon.
 "The position of Sergio Brugiatelli, the man whose rucksack had been stolen by the two teens – Christian Gabriel Natale Hjort and Finnegan Lee Elder – during the night between July 25 and 26, is still being examined by investigators. 
 Mr Brugiatelli, currently not under investigation, could face aiding and abetting charges for claiming, later retracting, that he had been robbed by North Africans. Later also through his lawyer he said that he did not remember talking about North Africans.
 cc