Man dressed as Ancient Roman Senator bathes in Trevi fountain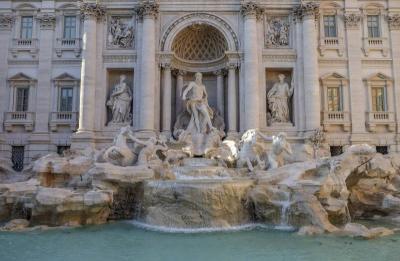 ROME – A man who threw himself into the Trevi Fountain Monday dressed as a senator from Ancient Rome, wanted to capture the attention of Matteo Salvini, police sources said.
 The 38-year-old Italian citizen entered the waters of the world famous Baroque masterpiece at around 7 pm, shouting he wanted to stage a demonstration in favour of Campanian retailers, victims of the Camorra, and asked to speak with Interior Minister Matteo Salvini.
 Traffic police, accustomed to frequent acts of disrespect towards Rome's monuments, noticed the man bathing in the fountain entered and escorted him out before hitting him with a fine of 450 euros and one of 100 euros, linked to Daspo – a temporary ban from the area. These fines are in line with new urban police regulations, meaning tourists caught in the water of a fountain face 450-euro fines and well expulsion from the city for 48 hours.
 On Saturday, uncontrollable tourist numbers at the Trevi Fountain forced traffic police to close the monument, disappointing visitors who had to be content with snapping photos and tossing coins from a distance.
 Access to the historic landmark was prohibited between the hours of 4 – 6 pm, as police cordoned off the staircase with yellow tape, leaving tourists to form a queue to toss their coins into the fountain from street level. Coins that missed their target were gathered and re-thrown by the police. 
 It was the same procedure for photographs. Disappointed visitors were asked to maintain order around the perimeter of architect Nicola Salvi's monument – "We're visiting from England, we did not expect to find it closed," partners Robert and Dana said. "We will try again tomorrow, after coming all this way we don't want to give up on a photo to frame."
 The area remained locked down for more than two hours – "Until the crowd starts to leave, we cannot remove the yellow ribbons," police said. "We must guarantee respect for the rules and ensure safety measures. Sitting is no longer allowed, therefore there is less space and a high risk of confusion."
 New regulations in Rome prohibit people from 'sitting, lying down or climbing for any reason, or behaving in any other way that's not compatible with their natural use," the rule reads. "All prohibitions apply to every part of the historic fountain including any stairs or stairways."
 "Rome is, and always will be, welcoming, but that does not mean tolerating bad behaviour and damage being done to our city," Mayor of Rome Virginia Raggi said.
 Other rules being enforced are: a ban on "messy" eating near monuments; dragging suitcases up or down historic staircases; wrapping your mouth around the metal spout on water fountains; pub crawls; singing on public transport; and attaching love padlocks to bridges.
  cc